Spring is coming to Rennie & Co Hatton Garden Jewellers
26/02/2019
Spring is coming to Rennie & Co Hatton Garden Jewellers
Rennie & Co Hatton Garden Jewellers
We are a family run Hatton Garden Jewellers located in the heart of London's jewellery quarter. With links to the fine jewellery trade dating back to the 1950's, the Rennie family have amassed a wealth of experience in jewellery design and manufacture. Emerge yourself in all the pretty spring colours with our beautiful precious coloured gemstone engagement rings and earrings in London.
Engagement Rings in Hatton Garden
From warm sunny yellow sapphire earrings to vibrant aquamarine engagement rings, Rennie & Co's Hatton Garden jewellers will most certainly get you in the mood for spring! Our beautiful Pianeti ring is a popular choice and can be found in diamond, sapphire and aquamarine variations, offering the perfect balance between the breath-taking central oval and the cluster of diamonds surrounding it.
Wedding Rings crafted in Hatton Garden
If you're planning a spring wedding, a variety of stunning wedding rings are available in our Hatton Garden showroom, each individually handcrafted and designed by our talented goldsmiths. Why not have a selection of sparkling diamonds set into your wedding ring? We offer a fabulous range of classical, through to contemporary style bands that suit all tastes! Take our Platinum 2.5mm Celestial design diamond set court wedding ring, which offers a beautiful patterned diamond effect.
Celebrating a special occasion?
Perhaps you are set to celebrate a special wedding anniversary or the birth of a child! Sparkle for spring with our deco style Finestra emerald and diamond halo ring, which is milgrain set with round cut diamonds. The Finestra ring can also be found with a central blue sapphire, yellow sapphire, ruby and diamond. This particular eternity ring works perfectly on the ring finger of the right hand.
To speak to Rennie & Co's Hatton Garden Jewellers, call us today on 020 7405 4585 or email diamonds@rennieco.com. All of our beautiful jewellery pieces can be viewed and purchased through our ecommerce website.
Alternatively, visit us in-store at your convenience. Our opening hours are Monday to Saturday (10am-5.30pm) and Sunday (11am-3pm). You can expect an enjoyable, professional, courteous and personal experience. With the new season approaching, we welcome you warmly to Rennie & Co.
Interested in diamond jewellery? Find out more in our oval engagement ring guide!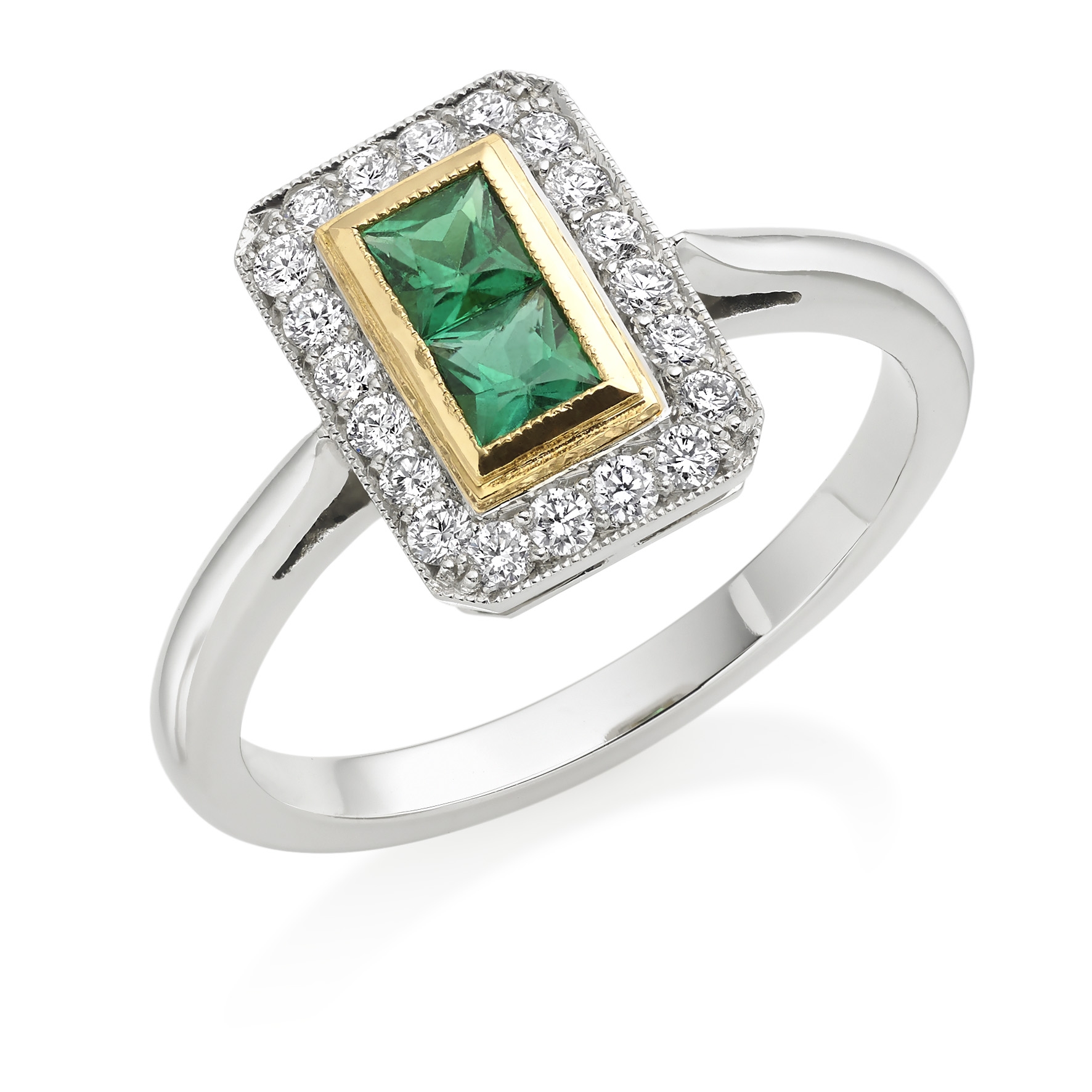 « Back