Rennie & Co, Hatton Garden jewellers: Our milgrain eternity rings
27/05/2016
Rennie & Co, Hatton Garden jewellers: Our milgrain eternity rings
Hatton Garden is well known for its prestigious jewellers and beautiful diamond jewellery. This hidden gem is London's jewellery quarter, jewellery lovers from all over the world have helped sustain the allure of Hatton Garden as a hotspot for engagement rings, wedding bands and eternity rings. One such offering are our beautifully delicate milgrain eternity rings. The eternity ring is a piece of jewellery often gifted to a lady to celebrate a special occasion, most notably a wedding anniversary or the birth of a child. However, it is not uncommon to also see the piece gifted as a gesture of love – which is always well received!
Vintage Style
Made from 950 platinum as well as 18ct gold, our lovely milgrain eternity rings offer a beautiful vintage appeal. But what is milgrain you might ask? Popular in the Edwardian and Deco eras, milgrain refers to a highly skilled decorative edging technique where tiny beads of metal are formed on the edge of the piece, whilst the stones that are set in-between are secured by raising grains or small pips of metal which form a practical setting.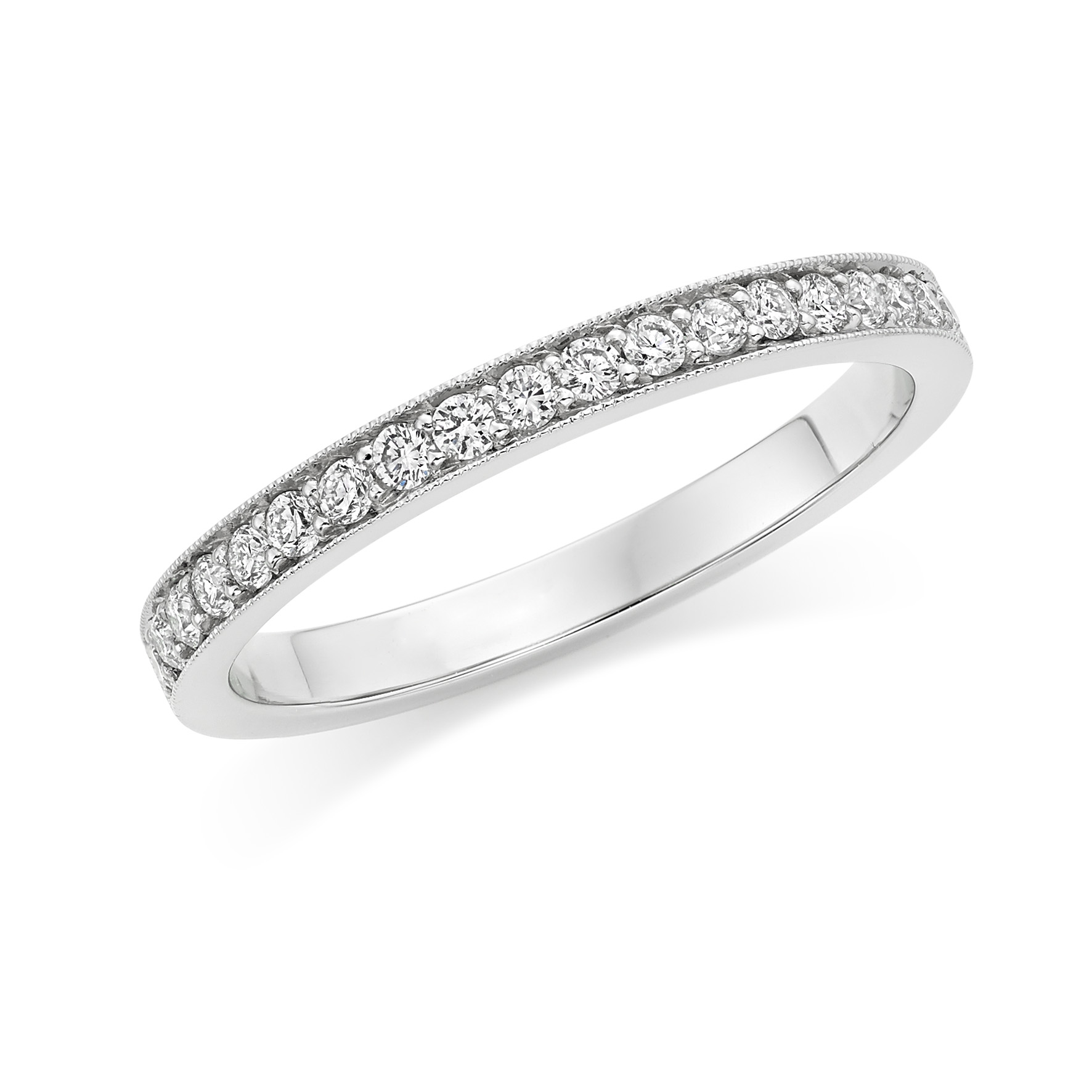 Traditionally, the embellishment of a piece with decorative milgrain was by hand, using a minute milgrain wheel to produce a precise and intricate effect. One slip and the piece could be ruined, as such many pieces offered for sale today have this effect cast into the item, resulting in a somewhat clumsy effect, lacking in finesse. Many retailers including Hatton Garden jewellers have opted for this pre-cast solution, not so Rennie & Co, our rings are entirely handmade and milgrain set using a microscope to ensure absolute perfection.
Finding The Right Proportion
Our milgrain eternity rings come in three different widths – 1.8mm, 2mm and 2.5mm. In addition, this collection comes in either a full or half version. The full milgrain eternity ring has round brilliant cut diamonds set the whole way round, whilst the half variation is also a popular choice. Come and see the difference for yourself!
Expert Advice from Hatton Garden Jewellers
If you have any questions about our stunning milgrain eternity rings or finding us amongst the numerous Hatton Garden jewellers, please do not hesitate to contact us on 020 7405 4585 or email diamonds@rennieco.com.
Find out more about Rennie & Co's vintage eternity rings.
« Back