Milgrain eternity rings from Hatton Garden jewellers
27/07/2015
Milgrain eternity rings from Hatton Garden jewellers
Made the decision to venture out to visit Hatton Gardens jewellers? Perhaps you are close to a special wedding anniversary or are celebrating the birth of your first child together! Whatever your occasion, our stunning handcrafted milgrain eternity rings are sure to bring a huge smile to your partner's face. But what exactly should you be looking for in the ring? Here are a few prompts which will hopefully guide your search.
Handcrafted
First and foremost, the most important factor when it comes to fine jewellery is quality. Many Hatton Garden jewellers vary in their quality standards, but with two generations of experience, Rennie & Co is renowned for its impeccable excellence in this field. Remember that this is a ring that will be worn for many years to come, and as such quality pays in the long run. Although milgrain eternity rings may look similar at first glance, ask the jeweller if you can take a look at how the stones are set under a loupe (eye glass). Differences will soon become very apparent between mass produced pieces and finer quality ones with uniformity and fineness of the grains being key factors - which ultimately impacts on the aesthetic appeal of the ring as well as its longevity.
Platinum or Gold
Next, what metal appeals to you most? Our milgrain eternity rings can be made in platinum or 18ct yellow, rose or white gold. As many Hatton Garden jewellers will tell you, despite white gold's lower price point, platinum is advantageous as it is a truly white metal with increased strength and durability. 18ct yellow gold is much loved by many traditional jewellery lovers, though the recent surge in the popularity of rose gold has made it an increasing attractive proposition! Whatever you feel would suit your partner, you can trust that our metal is sourced from a supplier of high quality bullion products.
A Family Of Jewellers Since 1958
Lastly, customer service should be considered an integral pillar when purchasing fine jewellery. You want to feel comfortable in the brand that you are purchasing from, after all you are spoilt for choice from all the Hatton Garden jewellers. At Rennie & Co, we would never pressure a customer to commit to a ring, but instead believe in allowing the client to come to their own natural decision. Of course our expert guidance will help fill in the gaps when it comes to any questions that you may have regarding the piece itself. We are regularly complimented by our returning customers that our advice and after sale customer service encouraged them to return to us – a tribute which we are committed to maintain.
For any questions that you may have about our stunning milgrain eternity rings, our contact details can be found on our website. Read more about milgrain eternity rings.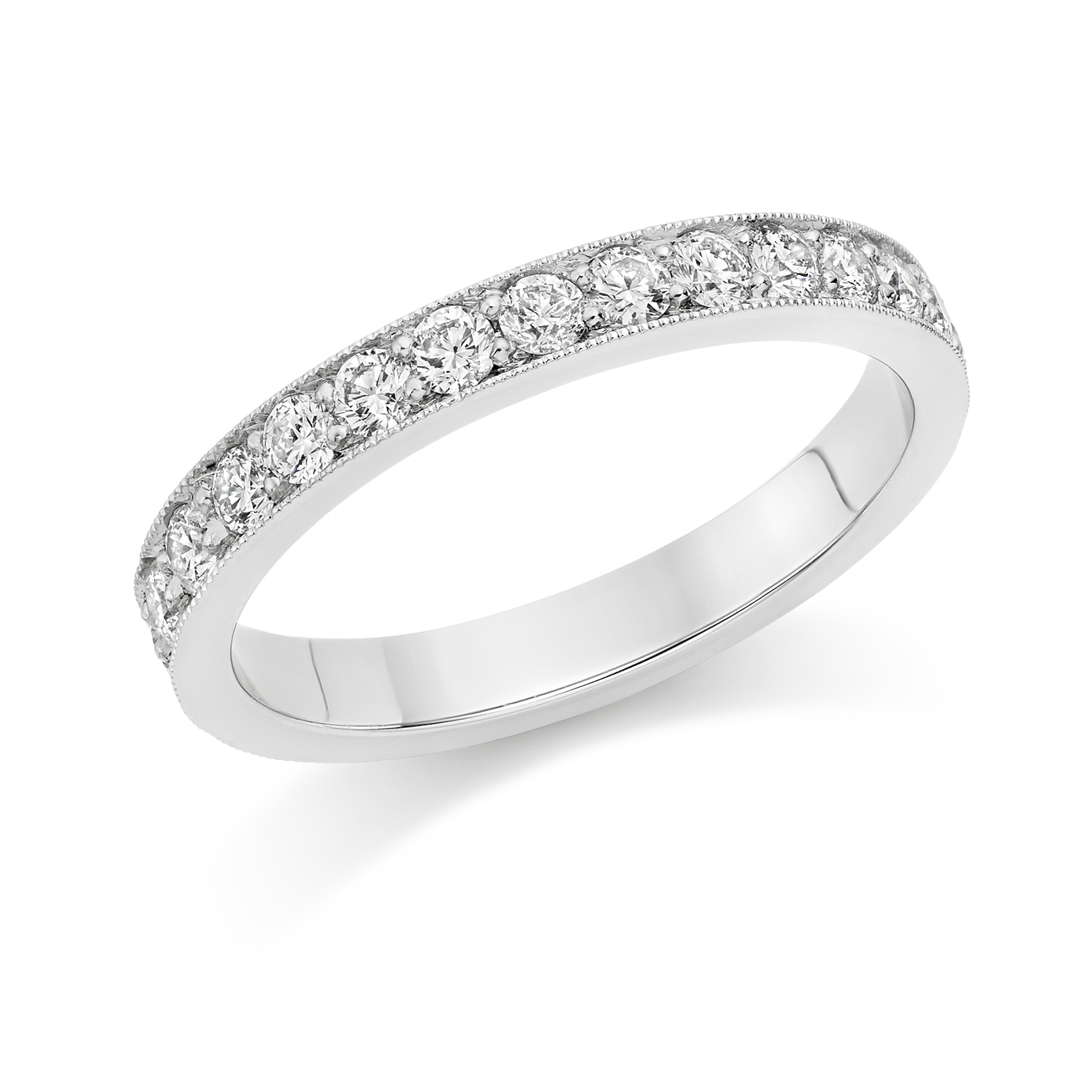 « Back