Consider a milgrain eternity ring for your anniversary
11/10/2015
Consider a milgrain eternity ring for your anniversary
Your wedding day is one of the most special days of your life. Finally being able to call your loved one your 'husband' or 'wife' is a wonderful feeling, and after months of wedding planning, you can at last relax in the company of your family and friends. But marriage only begins on your wedding day, and is a journey enjoyed for the rest of your lives together. At Rennie & Co, we firmly believe that your wedding anniversary is an incredibly important date in your diary, and should be celebrated!
The Perfect Anniversary Gift
Our milgrain eternity rings make the perfect anniversary gift and will be remembered for a lifetime. Whether it is your first or fiftieth anniversary, an eternity ring is a symbol of your everlasting and undying love. The moment your wife lays eyes on the beautiful sparkling ring, she will instantly fall in love with its dainty and vintage appearance.
Available in 18ct Gold and Platinum
These stunning rings are available in 18ct gold and platinum, allowing you to match the metal to your wife's existing wedding and engagement rings. Coupled with this, you will have the choice of whether to go for a full or a half eternity ring. This can be a tricky decision and so may require some time and thought. Perhaps a prompt here will be the style of her other diamond jewellery. Whatever your choice, the sheer beauty of the piece will leave her stunned!
Handcrafted
Our milgrain eternity rings are each handcrafted from start to finish and so will add that personal touch to your purchase. Entering our third decade of business, you can rest assured knowing that our brand has an admirable reputation in Hatton Garden.
If you have an important wedding anniversary fast approaching and would like to treat your wife to one of our milgrain eternity rings, please do not hesitate to contact our friendly team on 020 7405 4585 or email diamonds@rennieco.com. We appreciate that our clients deserve an exceptional level of customer service and so openly encourage our guests to ask as many questions as they'd like. To view or buy from our current selection of eternity rings online please click here. Alternatively, pop into store when you are next free!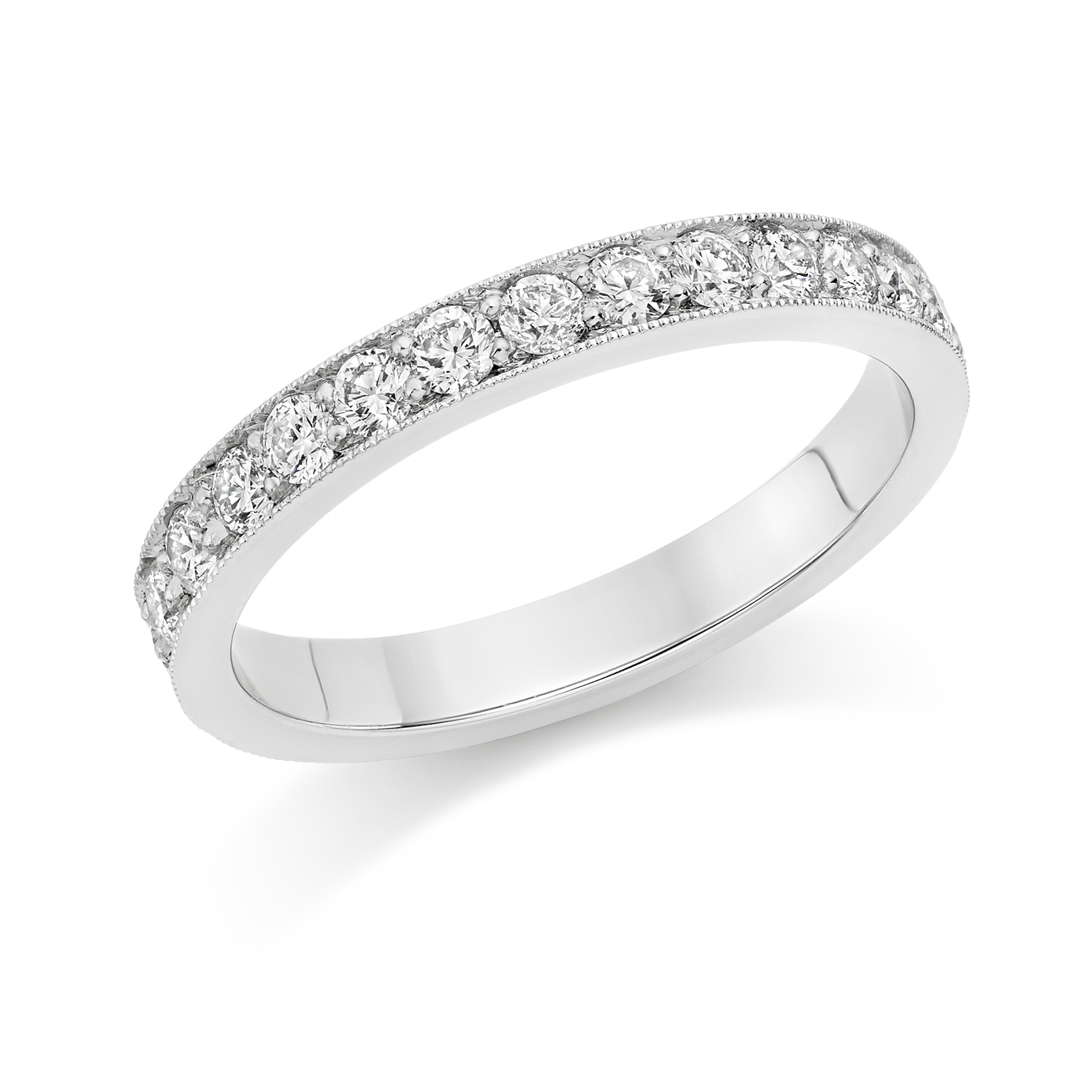 « Back