How best to take care of milgrain eternity rings
14/11/2015
How best to take care of milgrain eternity rings
Whether you are lucky enough to own one of our stunning milgrain eternity rings or are currently looking for that special piece, it is important to take extra care when it comes to diamond jewellery.
With the Rennie family name linked to the jewellery trade since the 1950s, it is of no surprise that we have developed a fine reputation for high quality pieces. Each of our rings are handcrafted to an exceptional quality, utilising the many decades of experience that our workshops have to offer.
Caring for your jewellery is as much about prevention as it is maintenance. By identifying the external forces that may cause damage to your diamond set piece, reducing the frequency of such accidents is made far easier. Therefore the next time you hear a clang from your ring finger, stop, and analysis what it was that caused it. Simple but effective advice.
At Rennie & Co, we strongly advise our customers to remove their milgrain eternity rings, and for that matter any of their rings when undertaking strenuous physical activities such as gardening or rigorous exercise. Although our platinum rings are very durable, various gym activities such as weight training or use of rowing machines exert incredible pressure on your ring, and can be extremely damaging. It is understandable that leaving your precious jewellery in a padlocked gym locker can be daunting, but how about purchasing an inexpensive short and strong chain so as you can wear your cherished ring round your neck whilst working out?
We strongly advise our customers to insure their jewellery with a reputable company. Even though you cannot replace the sentimentality of a lost piece of jewellery it will at least help if you can be financially reimbursed for its cost. Additionally should you accidentally damage the piece, most insurance companies can offer cover for this too.
If you have any further questions about our milgrain eternity rings or the care of your other precious jewellery, please do not hesitate to contact us on 020 7405 4585 or email diamonds@rennieco.com. Alternatively, view our wonderful collection of rings on our ecommerce website here.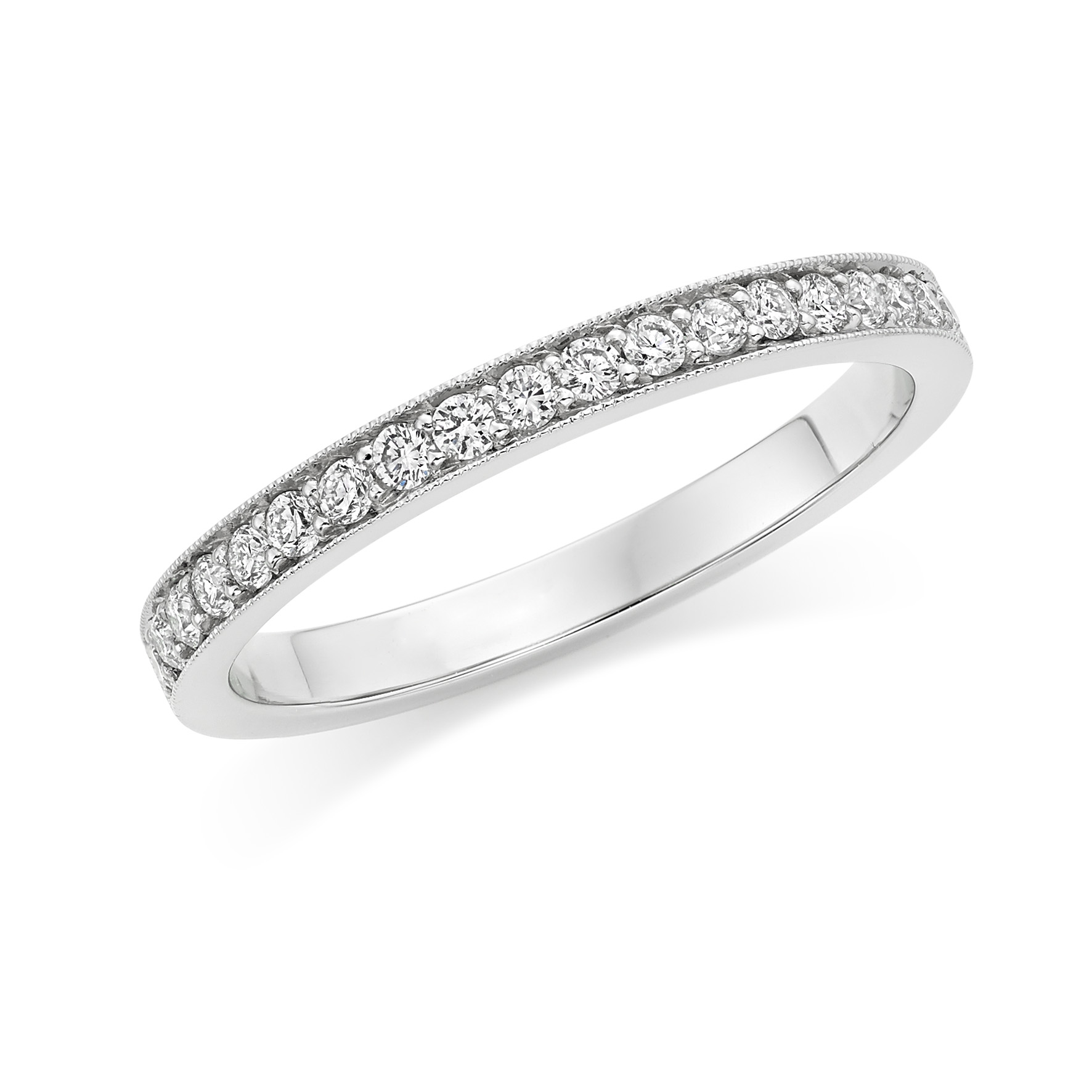 « Back