Join the Hatton Garden jewellers in switching on our Christmas lights
02/11/2015
Join us in Hatton Garden to switch on our Christmas lights
As the temperature drops and the days darken, it can only mean one thing – Christmas is fast approaching. It's that time again in the year where the Hatton Garden jewellers dig out their festive decorations and dress their shop windows in the most spectacular of ways!
Hatton Garden Christmas Lights 2015
On Tuesday 17th November, Hatton Garden will see this year's Christmas lights switched on in what will be a night to remember! Come and join the Hatton Garden jewellers in celebrating the build up to this wonderful time of the year, with a number of retail shops open late.
Rennie & Co will be taking part in the celebrations with a wonderful Christmas welcome of its own! Join the team from 5.30pm onwards for an evening full of shopping, bubbly and delicious nibbles! Whether you are looking to purchase your partner a beautiful engagement ring, choose from our variety of stunning eternity rings or treat your wife to a beautiful diamond pendant or set of earrings, we will be here to assist you. Closing at 7pm, this provides the perfect opportunity to pop by straight after work and find the perfect gift.
Complimentary Jewellery Cleaning
Existing customer? Why not take advantage of our extended opening hours to pop in to have your jewellery cleaned in our ultrasonic cleaner completely free of charge. This will work wonders in bringing your diamond back to life by removing any residue that may have accumulated over time. You won't believe the difference that it will make!
If you are struggling for gift ideas, why not visit our website for some inspiration!? If however you are looking for something a little more bespoke, give us a call or pop into store to share your ideas – we always try our best to accommodate our customer's needs.
Keep an eye out over the coming weeks for further information on this special event, you won't want to miss out!
Here to Help
For any questions regarding Hatton Garden's Christmas event on Tuesday 17th November, please do not hesitate to contact us on 020 7405 4585 or email diamonds@rennieco.com. We look forward to seeing you! For directions on how to get to any of the Hatton Garden jewellers, contact us.
Looking for gift ideas? Learn more about our Vintage Eternity Rings.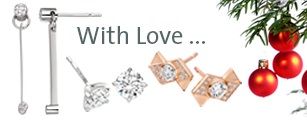 « Back