10 reasons that you should consider our milgrain eternity rings
06/02/2016
10 reasons that you should consider our milgrain eternity rings
Milgrain Eternity Rings
When it comes to diamond set jewellery, not many can resist the allure of our beautiful milgrain set eternity rings. Here are ten reasons as to why you should seriously consider one of these stunning pieces.
1) They are available in platinum, 18ct yellow gold, rose gold and white gold. If you were planning on wearing it beside an existing piece, you can find the perfect match!
2) They possess a wonderful vintage charm. Milgrain was incredibly popular during the Victorian, Edwardian and Deco eras and quite rightly so. Their intricate design is irresistible.
3) Available in three widths 1.8mm, 2mm and 2.5mm, no matter the size of your hands, our milgrain eternity rings will look fantastic on your finger. Proportion is everything when it comes to jewellery and so it is important that you find something that suits accordingly.
4) They look fantastic as wedding rings! Finding a fine balance between the engagement ring and wedding band can be a challenging task. Due to their delicate appeal, the milgrain set diamonds work fabulously and do not overwhelm either your engagement ring or finger.
5) Our milgrain eternity rings possess a beautiful low profile, allowing them to sit flush next to a wide variety of rings.
6) They are practical rings that can be worn on a day to day basis – after all, this is a piece of jewellery that you will love to wear!
7) They are available with diamonds all the way round, half way round or anything in-between!
8) Our milgrain eternity ring is just perfect for a large number of occasions – birthdays, wedding anniversaries or to celebrate the birth of a child!
9) Each individual diamond is selected and set by hand, utilising our highly skilled goldsmiths and diamond setters.
10) Each of our jewellery pieces comes with a lifetime ultrasonic cleaning service and insurance valuation updates, making it easier for you to care for your beautiful ring!
Read more about our stunning milgrain eternity rings.
Hatton Garden Diamond Ring Specialists
If you have any questions about our milgrain eternity rings, please do not hesitate to contact our friendly team on 020 7405 4585 or email diamonds@rennieco.com. Short on time to visit Hatton Garden? No problem. All of our stunning jewellery can be purchased through our secure website here.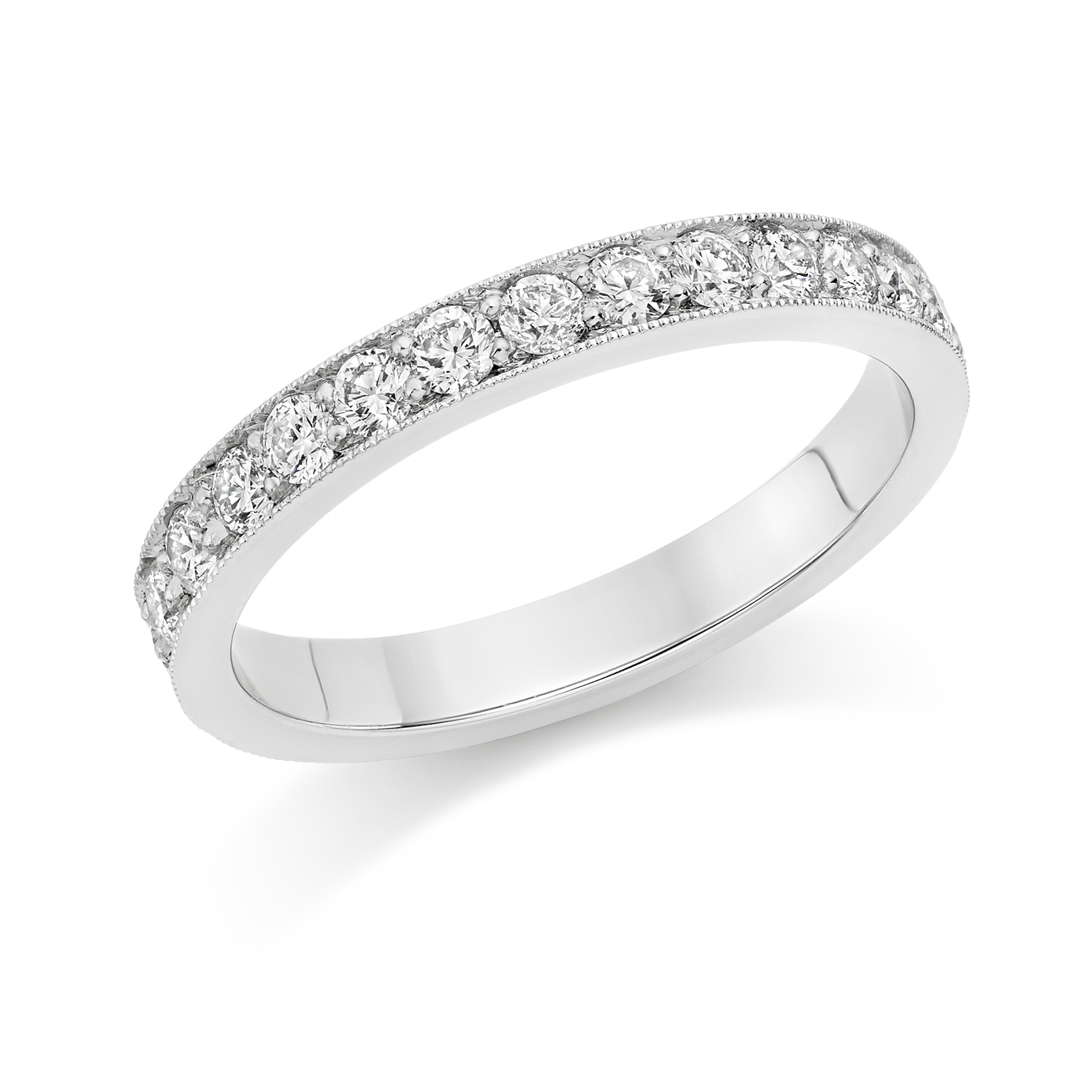 « Back