Eternity Rings in Hatton Garden: Three Unique Designs for your Partner
21/01/2019
Eternity Rings in Hatton Garden: Three Unique Designs
Eternity Rings in Hatton Garden
Eternity Rings in Hatton Garden attract customers from all over the country as well as from abroad. Rennie & Co is a family run Hatton Garden Jewellers with a passion for handcrafting beautiful eternity rings in London's jewellery quarter. With links to the jewellery trade dating back to the 1950's, an exquisite collection of diamond set jewellery awaits. We specialise in unique eternity ring designs that stand out from the crowd. In this blog article, we take a closer look at three distinct designs that are sure to catch your eye!
Rosa Eternity Ring
Our Platinum Rosa eternity ring from Hatton Garden is rub over set with beautiful diamonds that run the whole way around the band. Alternating in size, the Rosa is available with either all white diamonds, breath-taking natural yellow diamonds or a number of other natural coloured stones. Our talented Hatton Garden Jewellers are able to craft the Rosa in the precious metals of 950 Platinum or Eighteen carat gold (yellow, rose or white).
Aria and Gavriella
Rennie & Co's Aria eternity ring in London offers a particularly contemporary appearance. Utilising a modern bar setting, five beautifully cut baguette cut diamonds have been laterally set. The Aria looks particularly beautiful when sat alongside an emerald cut engagement ring given that both shapes of diamond fall within the step-cut classification. If you're looking for a similar design, why not try on our Gavriella, which is set with both baguette and princess cut diamonds!
Heartbeat Eternity Ring
If you're celebrating a special anniversary, treat your partner to Rennie & Co's Heartbeat eternity ring. Set with eleven stunning round brilliant cut diamonds, from the side profile a romantic open heart claw setting can be seen. If you plan to surprise your loved one with the gift of an eternity ring from our Hatton Garden showroom but are unsure as to her finger size, do not despair! Rennie & Co's Hatton Garden Jewellers suggest taking away the ring in its current size, returning with your partner after its presentation for a complimentary first resizing.
To speak to one of Rennie & Co's friendly Hatton Garden Jewellers today, call 020 7405 4585 or email diamonds@rennieco.com. Our opening hours are Monday to Saturday (10am – 5.30pm) and Sunday (11am – 3pm). All of our eternity rings from Hatton Garden can be viewed and purchased through our ecommerce website.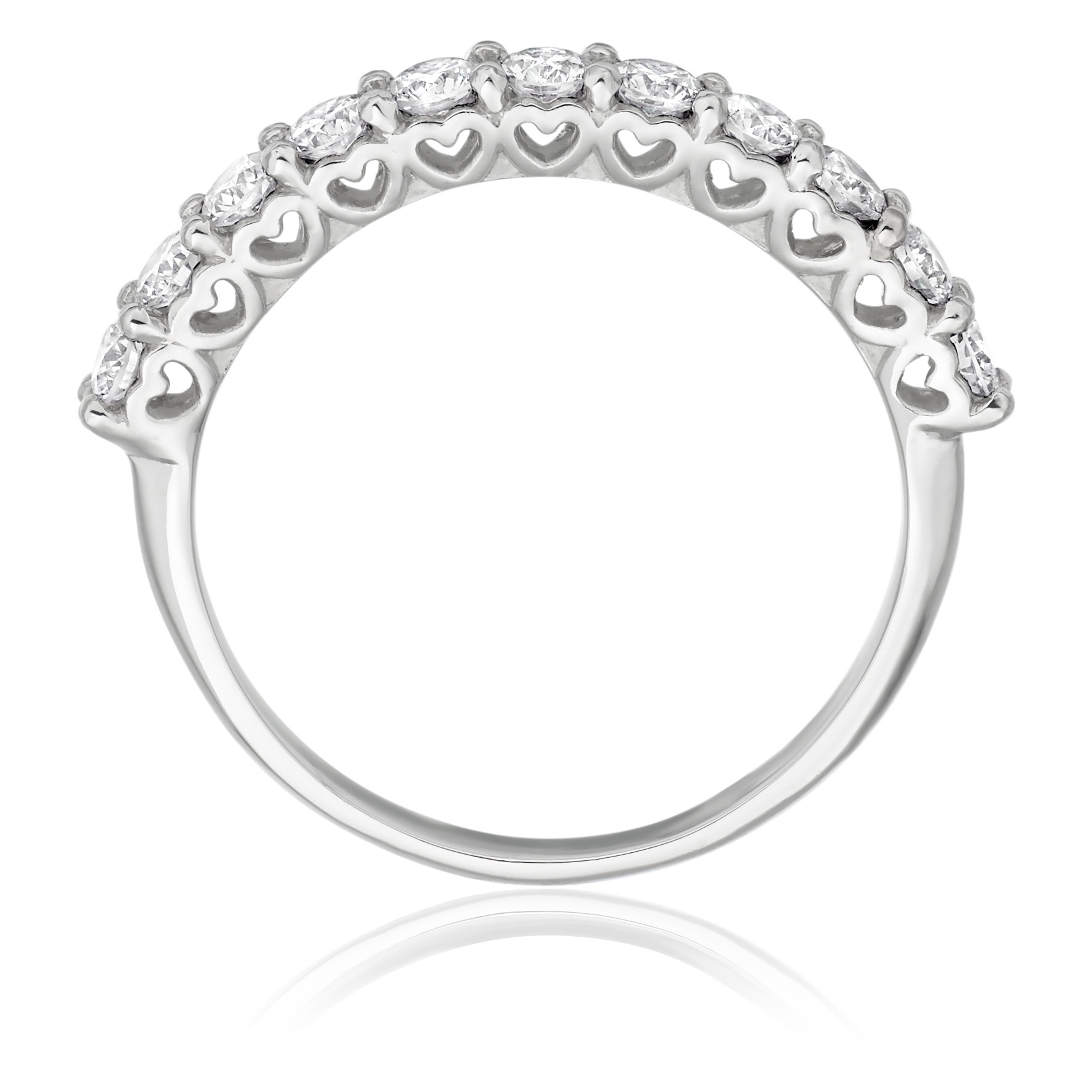 « Back