Hatton Garden's striking two-tone wedding rings from Rennie & Co
25/04/2018
Hatton Garden's striking two-tone wedding rings from Rennie & Co
If the next job on your wedding list is to select rings, a trip to London's jewellery quarter will be on the cards! Rennie & Co, the established Hatton Garden jewellers handcraft beautiful two-tone gold and platinum wedding rings with an extensive collection of captivating designs. Each and every ring is crafted by hand to your specific requirements and a bespoke service is also available.
Sinter Technology
Let's take a look at the stunning Platinum & 18ct white gold brushed finish 4mm Mara wedding ring. Divided into three sections, the centre is platinum with white gold edges providing a subtle contrasting two tone effect. As one of Hatton Gardens premier jewellers, the technology that we use to make such rings is cutting edge fusion which means the three bands are seamlessly joined together, no messy soldering is used or even worse plating of a base metal. The result is flawless, and the effect is understated, timeless and elegant. Making our rings this way avoids the customer having to re-plate the ring continuously to retain its colour differential. Our Mara wedding ring can be handcrafted in a number of widths, so do pop in to find the perfect width for your hand! View our Mara 4mm wedding ring.
Platinum and Red Gold
So many of our customers visiting Hatton Gardens are looking for a platinum and red gold wedding ring. The Platinum & 18ct red gold 6mm Leonora wedding ring is a popular choice and it's easy to see why! Possessing a hand brushed finish and a flat court profile, not only does this ring look stylish but is incredibly comfortable to wear! Your wedding ring is the one piece of jewellery that you will wear every day and so it goes without saying that it should feel great on your hand. If 6mm is not your desired width get in touch with us as we are able to work to a more specific width. View the Leonora wedding band.
Multiple Colour Wedding Rings at Rennie & Co
All of Rennie & Co's beautiful two-tone gold and platinum wedding bands can be viewed on our website. Alternatively, visit our Hatton Garden showroom to view all of our wedding rings. Given that each ring is crafted by hand, we advise our customers not to leave their choice of band too close to their wedding date. For any questions that you might have, contact our friendly team on 020 7405 4585 or email diamonds@rennieco.com.
Why not read our guide on choosing a wedding ring?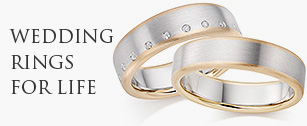 « Back