Three stone platinum diamond rings and your choice of setting
23/12/2015
Three stone platinum diamond rings and your choice of setting
Three stone platinum diamond rings are the arguably one of the most beautiful of engagement pieces. Incredibly elegant with unbeatable sparkle across three handpicked diamonds - it's a style icon in its own right and a firm favourite for the lady who possesses classical tastes. Such rings come in a variety of beautiful settings including claw and spectacle. This leaves you with plenty of choice, allowing you to personalise your selection to best suit your finger.
The claw setting is perhaps the most recognised setting of them all. Not only does it make for a practical setting, but it enhances the scintillation of each diamond. Three stone platinum diamond rings set in this way can still vary quite substantially in design and so it is always beneficial to approach the process with an open mind. Due to the huge sentimental value of an engagement ring, it is important that the piece will stand the test of time. Therefore, the claw setting is a popular choice. An example of one of our stunning three stone platinum diamond rings is the Platinum Grazia round cut diamond three stone ring 0.81cts, with a certificated center stone of E, VS2.
If you have just begun your search, it is unlikely that you would have come across a spectacle set ring yet. This unusual style takes its name from the way in which many lenses are secured in a pair of spectacles. It makes for a wonderful clean appearance especially suited to Emerald cut diamonds. It's perfect if you prefer a lower setting, or for someone who favours something a little different. You can view one of our beautiful three stone rings in this style here - our Platinum Giuditta emerald cut diamond three stone ring 0.61cts, center stone graded D, VVS2.
We strongly recommend you to drop into our shop every year or so for an ultrasonic clean and a quick inspection of your ring. Maintenance of your fine jewellery is absolutely essential and can prevent the loss of valuable diamonds. If you have any questions about our three stone platinum diamond rings, please do not hesitate to contact our friendly team on 020 7405 4585 or email diamonds@rennieco.com.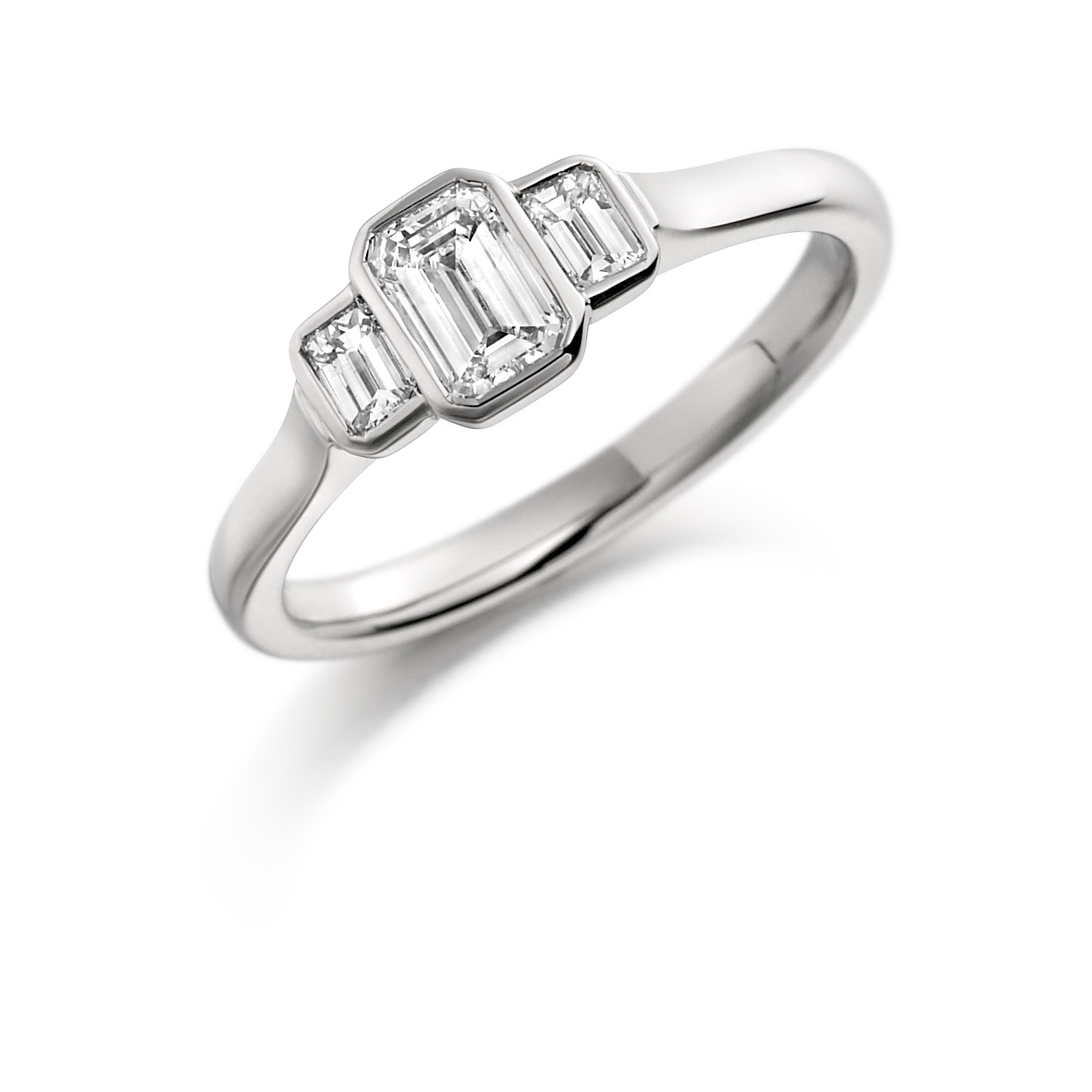 « Back