Stacking Eternity Rings in London: Rennie & Co Hatton Garden Jewellers
05/03/2019
Stacking Eternity Rings in London: Rennie & Co Hatton Garden
Eternity Rings Crafted in London's Jewellery Quarter
Handcrafting eternity rings in London since the 1950's, the Rennie family welcome both new and returning customers looking to celebrate a special occasion with the gift of a gold or platinum diamond eternity ring from Hatton Garden. Stacking eternity rings has become an incredibly popular trend in recent years and it's easy to see why! We work with the precious metals of eighteen carat yellow, rose and white gold as well as 950 platinum.
Amalia Eternity Rings
Rennie & Co's Amalia eternity rings in Hatton Garden are fabulous rings to stack! Available in a range of widths and precious metals, these stunning rings can be set with diamonds either half way around, or the full way around. Many ladies will choose to stack three Amalia eternity rings on one finger - one in a white metal (white gold or platinum), one in rose gold and the last in yellow gold! You may choose for the middle band to be made a little bit wider to draw attention to the centre of the set!
Sabrina Diamond Set Eternity Rings
If you're looking for a contemporary eternity ring in Hatton Garden, our Sabrina collection could be perfect for you. Beautiful round brilliant cut diamonds have been cog set, offering a stunning, intricate side profile. Perfect for stacking, each piece is made to your exact finger size, a process that takes us in the region of 4 weeks. If you're presenting the eternity ring as part of a surprise but are unsure as to your partner's finger size, our Hatton Garden jewellers suggest taking away the piece as it is. After presenting your beautiful eternity ring, your partner can visit our showroom to be professionally measured.
We stock a wonderful collection of eternity rings in our London showroom that suit all tastes and a wide range of budgets.
Speak to our expert Hatton Garden Jewellers
To find your dream eternity ring in London, speak to one of our friendly jewellery consultants today on 020 7405 4585 or email diamonds@rennieco.com. We are open Monday to Saturday (10am-5.30pm) and Sunday (11am-3pm). We also offer a bespoke eternity ring service in our Hatton Garden showroom.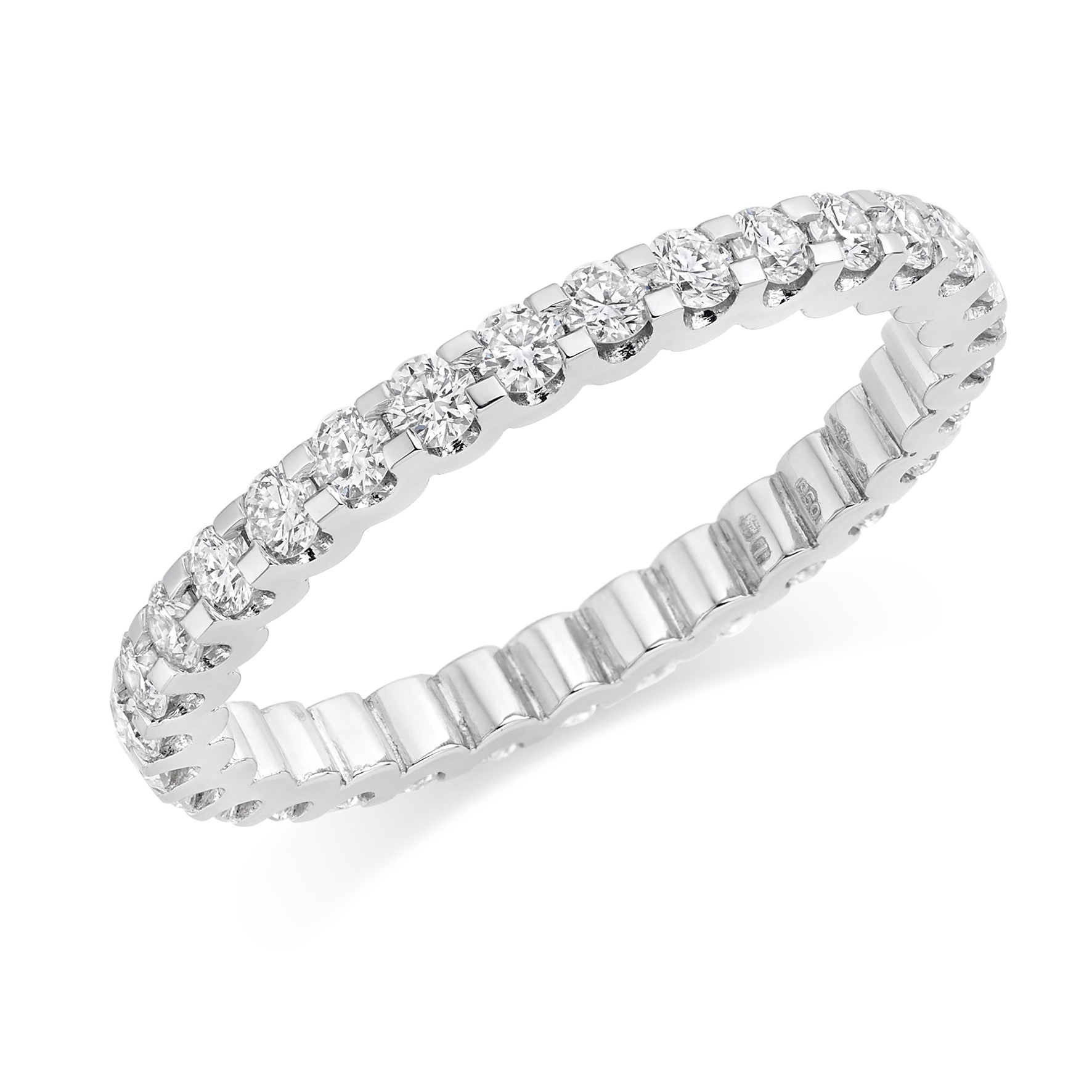 « Back