The beauty of roman set platinum wedding bands
29/10/2016
The beauty of roman set platinum wedding bands
Rennie & Co's roman set platinum wedding bands are a luxurious choice for those looking to achieve the perfect balance on their finger. Though diamonds have long been incorporated into wedding rings for many generations, finding a piece that enhances and doesn't detract from your sparkling engagement ring can be challenging.
Your Choice of Diamond
Available in round brilliant, princess, carré and baguette cut diamond variations, the art of roman setting (which is also sometimes referred to as invisible setting) involves drilling a small hole in a platinum wedding band's exterior surface and carefully flush setting the stone to accomplish a subtle and durable effect.
The platinum wedding ring is then polished, or brushed if preferred to complete the process. The roman setting is but one of an extensive collection of diamond set platinum wedding bands to be found at Rennie & Co, one of Hatton Garden's foremost jewellers.
Classic Platinum Oxford
Take our stunning Platinum 2.5mm Oxford diamond wedding ring (0.05cts). Seven beautiful round brilliant cut diamonds are set into the band by our master diamond setter to achieve a piece of breathtaking beauty. Platinum is a naturally white metal and will not require any plating to maintain its lustrous colour, as opposed to 18ct white gold which must be rhodium plated periodically to remain white.
Wedding Rings Made To Your Specification
If your engagement ring possesses a flatter profile, you may well choose a flat wedding band. Our Platinum 3.5mm Lucia diamond wedding ring (0.20cts) is an enduringly popular choice, incorporating five baguette cut stones into it's band. This piece works well alongside an emerald cut engagement ring, mirroring the cut. Though some ladies will choose to match the stone shape of their engagement ring to that of the wedding band, others prefer to playfully use different shapes to create a truly distinct and eye-catching set.
All of our platinum wedding bands are made to order, meaning that nobody else will have tried your special ring on before. As such, many customers choose to order their bands a couple of months before their wedding. If you would like to contact our friendly team, call us on 020 7405 4585 or email diamonds@rennieco.com.
Why not find out more about Hatton Garden Jewellers?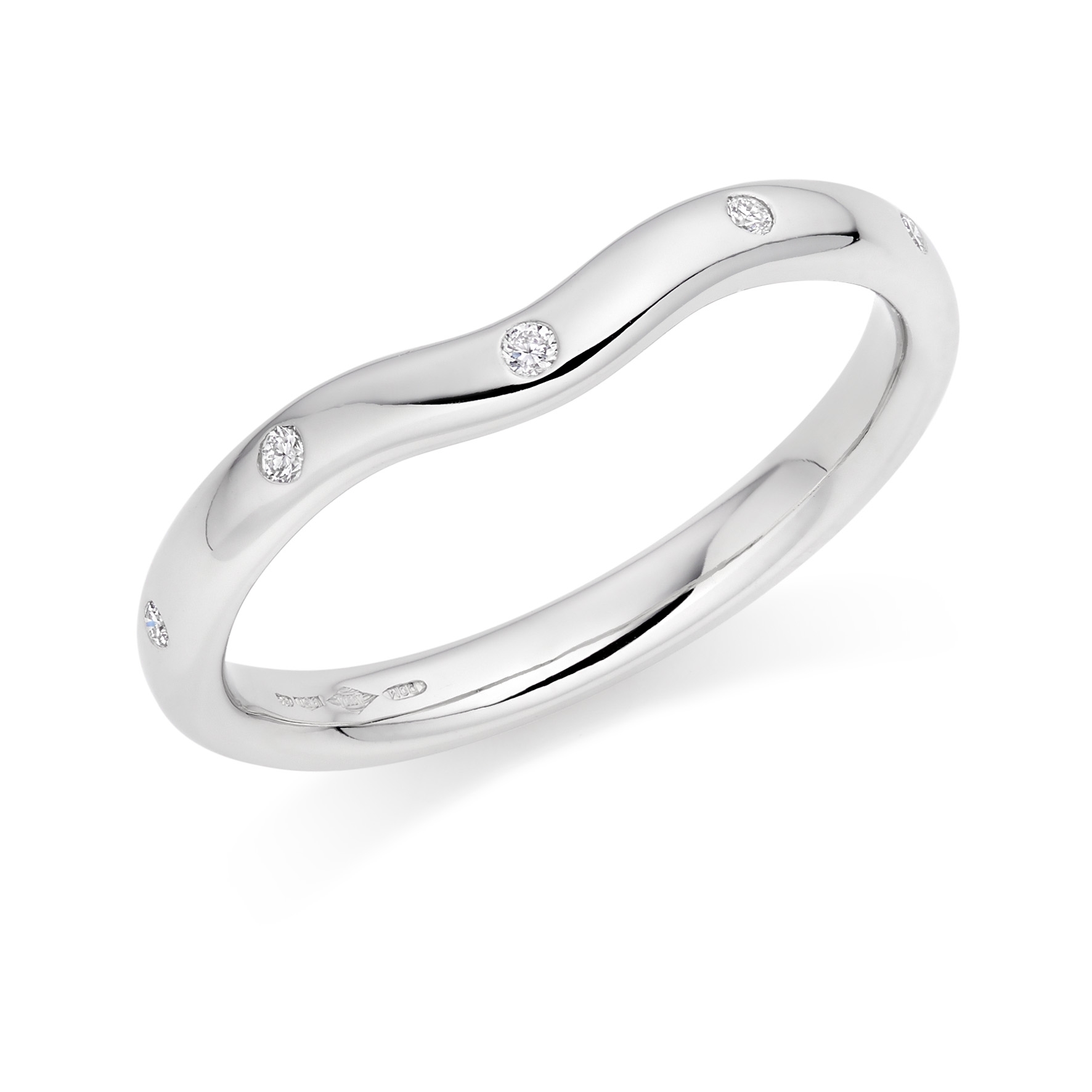 « Back