Engagement Rings in Hatton Garden: What is the perfect carat weight?
20/10/2018
Engagement Rings: What is the perfect carat weight?
If you're in the process of finding the perfect engagement ring in Hatton Garden, you've likely carried out a fair amount of research as to what is available in London's jewellery quarter. Choosing a diamond engagement ring is an incredibly exciting experience but one that you won't want to rush into without being absolutely sure of your choice.
A round brilliant cut diamond is graded to determine its colour, clarity, cut and carat weight. Whilst 'carat' is a well-recognised term, it is often misunderstood. Carat is a measurement of weight, and not size. As an example, a half carat diamond might have a diameter 5.1mm, whereas the diameter of a one carat diamond (weighing 100% more) will only increase by a further 25%. As you start speaking to Hatton Garden's jewellers and begin viewing diamond rings, this will become very apparent.
At Rennie & Co, we are often asked of the importance of carat weight by customers looking for the perfect engagement ring in London. This really does vary from customer to customer and so there is no right or wrong answer.
Many customers choose to strike a balance between the weight and quality of the diamond, often targeting a colourless stone (D,E,F) which has been beautifully cut. When looking at GIA certificated engagement rings in Hatton Garden, the carat weight will likely be influenced by the size of your partner's hands. Too small and the diamond will become lost on the hand, but too large and it may become too overwhelming.
It is important to remember that a diamond is graded on far more than just its colour, clarity, cut and carat weight. No two diamonds are alike and their beauty and value is based on a variety of factors, stretching from the dimensions of the stone, to the types of inclusions and blemishes that the diamond possesses. Unfortunately, many diamonds are cut to maximise weight as opposed to beauty, and as such this results in a lumpy stone that possesses very little life to it. It is therefore important to find a reputable Hatton Garden jeweller who will explain all of the characteristics of the diamond to you, to ensure that you find a beautiful stone and achieve excellent value for money.
With links to the jewellery trade since the 1950's, the Rennie family has amassed a wealth of experience in the design and production of stunning diamond engagement rings. Our jewellery consultants can be contacted today on 020 7405 4585 or emailed at diamonds@rennieco.com. Our single stone engagement rings, three stone diamond rings and vintage style cluster rings are all available to try on in our tranquil showroom at your convenience. We also offer a bespoke engagement ring service in our Hatton Garden store.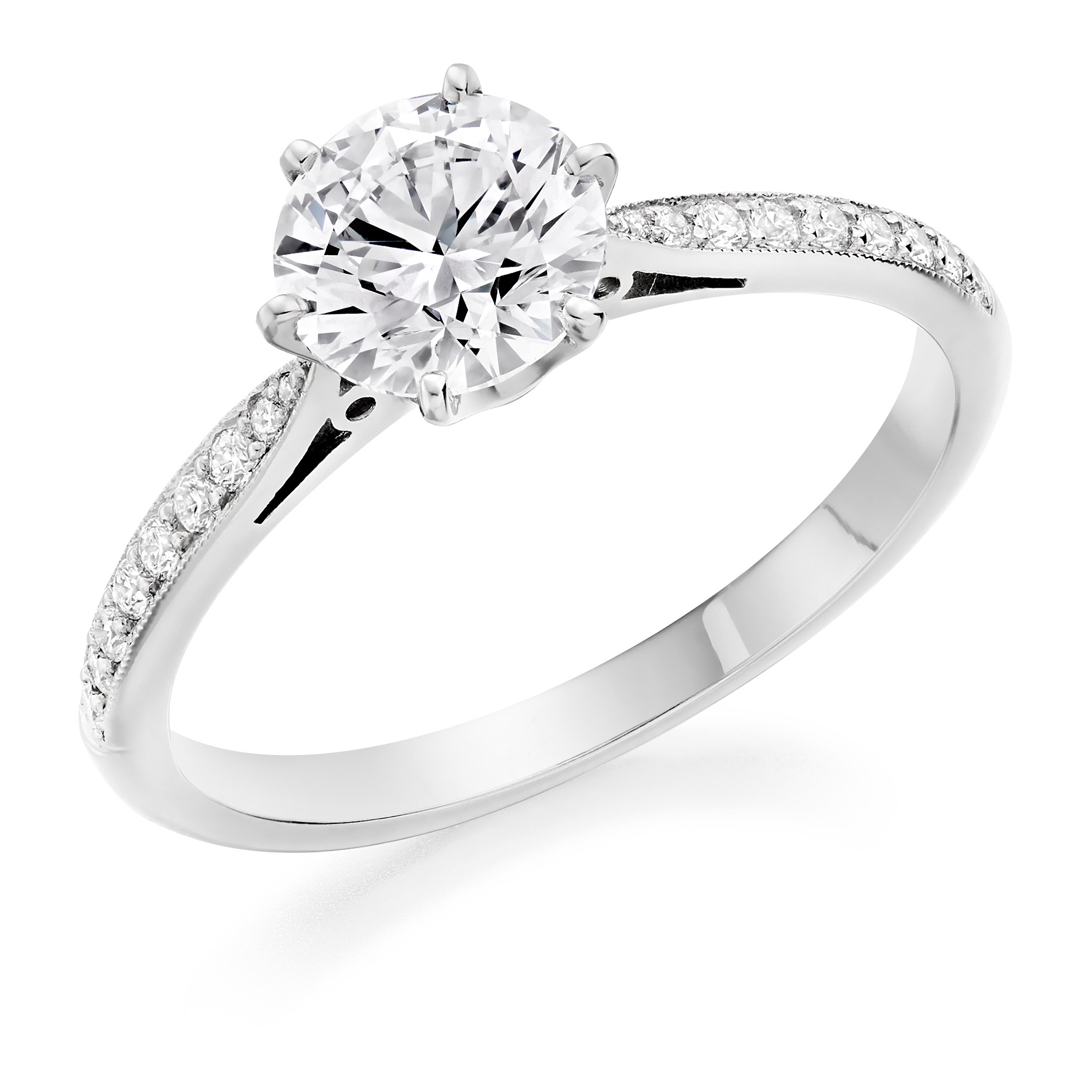 « Back