Eternity rings in Hatton Garden: The history behind the eternity band
25/09/2018
Eternity rings: The history behind the eternity band
Rennie & Co is a family run Hatton Garden jewellers that specialises in the handcrafting of stunning diamond jewellery to celebrate life's most precious occasions. The gift of a gold or platinum eternity ring from Hatton Garden has become increasingly popular in recent years, and is often presented to a lady to celebrate a milestone wedding anniversary, special birthday or the birth of a first child. But have you ever wondered about the origin of the eternity ring? In this blog, we take a closer look at the history of the eternity band.
The origin of the eternity ring dates back approximately 4,000 years to Egyptian times. The eternity ring signified eternal love and life, and was often seen in the form of a snake consuming its own tail (referred to as the 'Ouroboros') – an ancient symbol that represented eternity. The style and appearance of the eternity ring has evolved drastically since. Whilst Ouroboros rings do still exist today, the traditional gold and platinum eternity rings seen in Hatton Garden now take a very different form – a band of precious metal with diamonds and/or coloured gemstones set either half or the full way around.
When looking at beautiful eternity rings in London, you may also question which finger the eternity band is to be worn on. It was once thought that a vein ran directly from the left ring finger (the same finger that your engagement and wedding rings are worn) to the heart. There are no set rules for the order that you should wear your rings, some ladies even choose to wear their platinum eternity ring on the opposite hand!
As trends have come and go, the eternity ring has changed in its appearance, however one thing will always remain the same – the smile on your partner's face when she places her beautiful eternity ring on her finger for the first time! Rennie & Co's Hatton Garden jewellers are here to help. To find the perfect eternity ring in London, speak to a member of the team on 020 7405 4585 or email diamonds@rennieco.com. All of the eternity rings in our Hatton Garden showroom can also be viewed and purchased on our ecommerce website.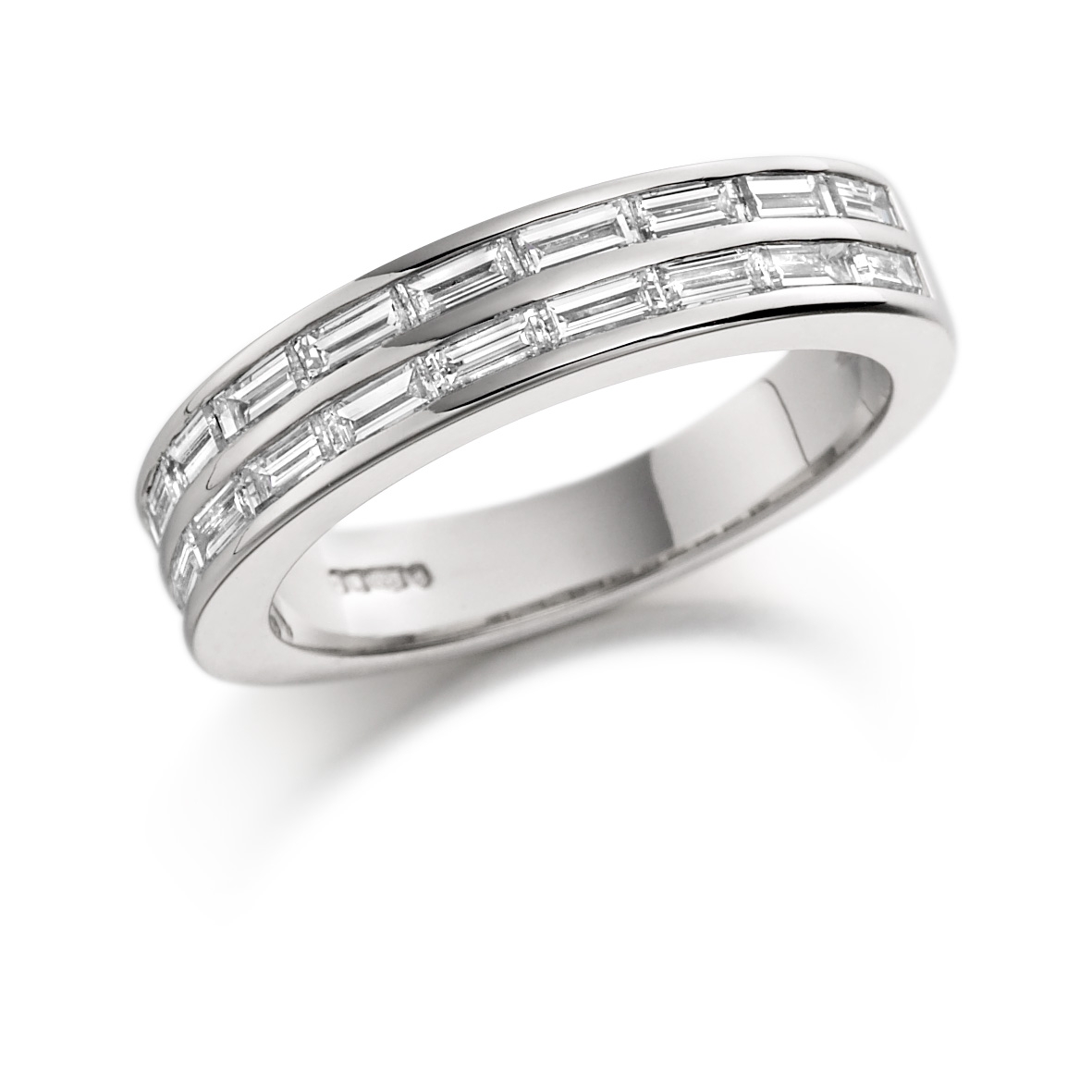 « Back