White gold, Palladium and Platinum wedding bands
15/03/2017
White gold, Palladium and Platinum wedding bands
If you are tying the knot this year, you may have started to look at wedding rings. White gold, palladium and platinum are commonly used materials in the crafting of wedding bands, each of which possess unique characteristics. When buying white gold, palladium or platinum wedding rings, there are a few facts that you should take into account to find a metal that best suits you.
White Gold Wedding Bands
When we think of gold, we think of its natural stunning yellow colour. After all it is perhaps the most well-known and recognised metal of all, however many people are surprised to hear that gold wedding rings can also be white or red in colour. White gold comes from adding specific white alloys to the pure yellow gold - these alloys can be silver, palladium, platinum, or zinc. Under the European Parliament and Council directive 94/27/EEC, nickel has been banned as this metal can cause irritation and rashes when in contact with the skin. However care should be taken to purchase your rings from a reputable retailer as some nickel continues to find its way into the country. If in doubt ask to see written proof from the retailer that their suppliers adhere to the nickel directive. But even after adding white alloys to the gold, the band will retain a slight yellow hue until it has been rhodium plated. Whilst it would be difficult to detect a difference in colour or lustre between finished platinum wedding rings and the rhodium plated 18ct white gold bands, white gold requires a much higher level of maintenance than platinum wedding rings due to the constant wearing off of this plating over time. White gold might be cheaper than platinum at first glance, but it is worth considering the cost of regular re-plating in the future.
Palladium Wedding Bands
Discovered in 1803 by William Hyde, palladium was named after an asteroid called Pallas. Palladium possesses a natural silvery white colour and has recently seen a rise in popularity when it comes to wedding bands. Though its appearance is similar to that of platinum, palladium bands are significantly lighter than platinum wedding rings. Though you will undoubtedly save money by opting for palladium over platinum, its lesser weight is somehow less appealing for the majority of customers.
Platinum Wedding Bands
Platinum wedding rings are the most commonly purchased bands in Hatton Garden. A dense metal which is naturally white in colour, platinum wedding bands are desirable due to their durability and low maintenance when worn on a day to day basis. Platinum bands possess a wonderful presence and a lustrous finish. Often referred to as the most noble of precious metals, platinum is so much rarer than gold and is an interesting metal to work with, demanding great skill and patience. One collection of Rennie & Co's contemporary rings offer a two tone effect where platinum is fused alongside 18ct white gold to produce a breath-taking two tone piece of jewellery. Many platinum wedding rings found in Hatton Garden jewellers will be made from 950 grade metal though lower qualities do exist.
Rennie & Co Hatton Garden Jewellers
If you have any questions about our gold, palladium or platinum wedding bands, contact our team of jewellery experts on 020 7405 4585 or email diamonds@rennieco.com. Our wedding rings can be tried on instore and viewed on our website. Not able to make the trip to Hatton Garden jewellers? Our wedding rings can be ordered through our ecommerce site and delivered directly to you.
Why not check out our guide on platinum wedding rings?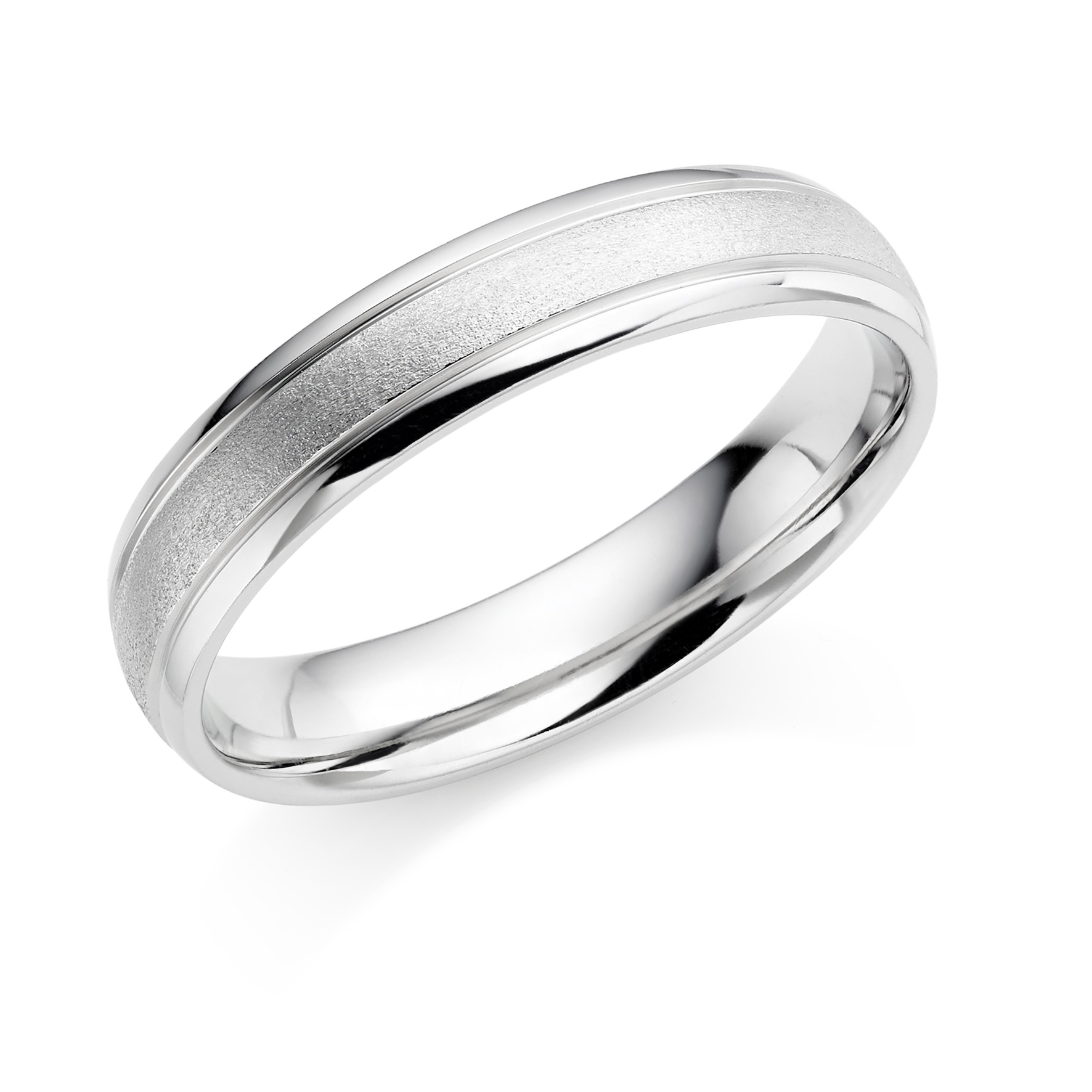 « Back