Hatton Gardens wedding rings: How to find the right one!
14/10/2017
Hatton Gardens wedding rings: How to find the right one!
So the time has come to choose a beautiful pair of gold or platinum wedding rings for your big day. Making the right choice can seem somewhat daunting give the huge selection available, so in this article we offer a few tips that might get you started!
Getting The Right Width
Let's begin with the width of the ring. It's one of the first points to be tackled. Your platinum wedding band has to feel comfortable to wear and also look proportionate to the rest of your hand. Those of you with smaller hands will generally gravitate to somewhat narrower bands as the wide ones may seem overly heavy on the finger. A growing fashion for ladies is to choose very narrow wedding rings – though this does offer a delicate appearance, the band itself will be more vulnerable to the rigours of everyday life. Currently the most popular widths for ladies are 2mm, 2.5mm and 3mm, whilst 4mm, 5mm and 6mm are favoured by men.
Precious Metals
Let's now turn our attention to the colour of the band. There are a few different options such as white gold, yellow gold, rose gold, platinum and palladium (for further information on the differences between the white metals, check our previous blog article). Your choice may be based on personal taste and cultural traditions. Try on a range of colours to see which one works best and suits your skin tone. With many of the rings it is possible to choose between a brushed finish or polished, whichever you prefer, Rennie & Co will be able to help - trying them on in- store will help no end!
Classic Or Contemporary
Next, the design. Be warned the selection of Hatton Garden wedding rings is enormous, some are classical in design, others more contemporary. The profile of a wedding ring will have a huge influence on its appearance both from a design point of view as well as on the finger. Rennie & Co's jewellery consultants will explain these differences to you allowing you to build up a better understanding of the various pieces available. We handcraft a beautiful collection of gold, palladium and platinum wedding rings to suit all tastes.
The Perfect Fit
Lastly, let's turn our attention to the ring size. Once you have decided on your wedding band, it's time to find the right size. Usually the lady will have a good idea of the finger size required having worn her engagement ring (though it is best to double check with a jeweller!). For those unsure of their finger size, first choose the style of ring that you like as certain profiles and widths can feel tighter than others despite being the same size. Your Hatton Garden jeweller will work with you to find the perfect fit. Though it might seem tempting to choose a larger finger size for a more relaxed fit, this often results in the ring swinging around the finger or worse still lost!
Rennie & Co, the Hatton Garden jewellery store, are renowned for their stunning gold and platinum wedding rings. Why not visit us today!? View our opening hours.
Why not check out our guide on how best to choose a wedding band?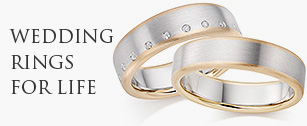 « Back