Eternity rings in Hatton Garden – The facts about platinum and gold
01/11/2018
Eternity rings in London – The facts about platinum and gold
At Rennie & Co Hatton Garden jewellers, we are often asked by our customers about the differences between the precious metals of platinum and gold. Whether starting your journey with a diamond engagement ring, choosing a pair of weddings bands, or presenting the precious gift of an eternity ring from our Hatton Garden store, your choice of metal is an important one.
It is important to remember that with both platinum and gold, different purities exist. In the case of platinum, 850, 900, 950 and 999 purities can be found – this refers to how many parts per thousand are pure platinum. Rennie & Co handcrafts their platinum jewellery in 950 purity which means that at least 95% of the metal will be pure platinum, the other 5% will be alloy metals. With gold, numerous purities exist - 375 (9 carat), 585 (14 carat), 750 (18 carat), 916 (22 carat), 990 and 999 (24 carat). Rennie & Co's exceptional gold eternity rings in Hatton Garden are made from Eighteen carat gold, a fineness of 75%.
Platinum and Eighteen carat gold also differ in weight. If you were to compare two eternity rings in our London store that were identical in style - one crafted in eighteen carat gold and the other in 950 platinum, you'd instantly notice that the platinum piece would be heavier due to its higher density. Many customers prefer the weight of platinum however this is a very personal choice. If you're used to wearing lighter weight jewellery, eighteen carat gold is certainly worth considering.
When many customers think of gold, they think of a yellow metal. But did you know that rose gold and white gold also exist? Pure gold is bright yellow in appearance, but can be mixed together with other metals to create different colours. Eighteen carat white gold is mixed with white alloys, whilst rose gold uses copper alloys. In the case of white gold, the metal is usually rhodium plated at the end to enhance its whiteness. Over time this plating will wear off, causing your jewellery to change in colour slightly. Whilst re-plating is not an expensive process, a thin layer on metal will be removed at polish before the rhodium is reapplied. If you choose to plate your ring regularly, this frequent polishing is likely to wear down the settings that secure your diamonds at a faster rate. Platinum on the other hand is a naturally white metal and so its colour will not change. Our Hatton Garden jewellers advise that if it is a white metal that you are looking for, platinum is the better choice.
Lastly, how do 950 platinum and eighteen carat gold compare in terms of durability? Both metals will pick up marks through wear and tear and so we recommend removing your jewellery for the more spirited activities in life. Platinum is a less malleable metal than gold, making it more difficult to push out of shape. Whilst care should be taken with both precious metals, diamond settings in platinum do tend to be more robust.
If you're in the search for the perfect eternity ring in Hatton Garden, all of our exquisite pieces can be viewed online or tried on in-store today! Have a question? Rennie & Co's friendly Hatton Garden jewellers can be contacted on 020 7405 4585 or emailed at diamonds@rennieco.com.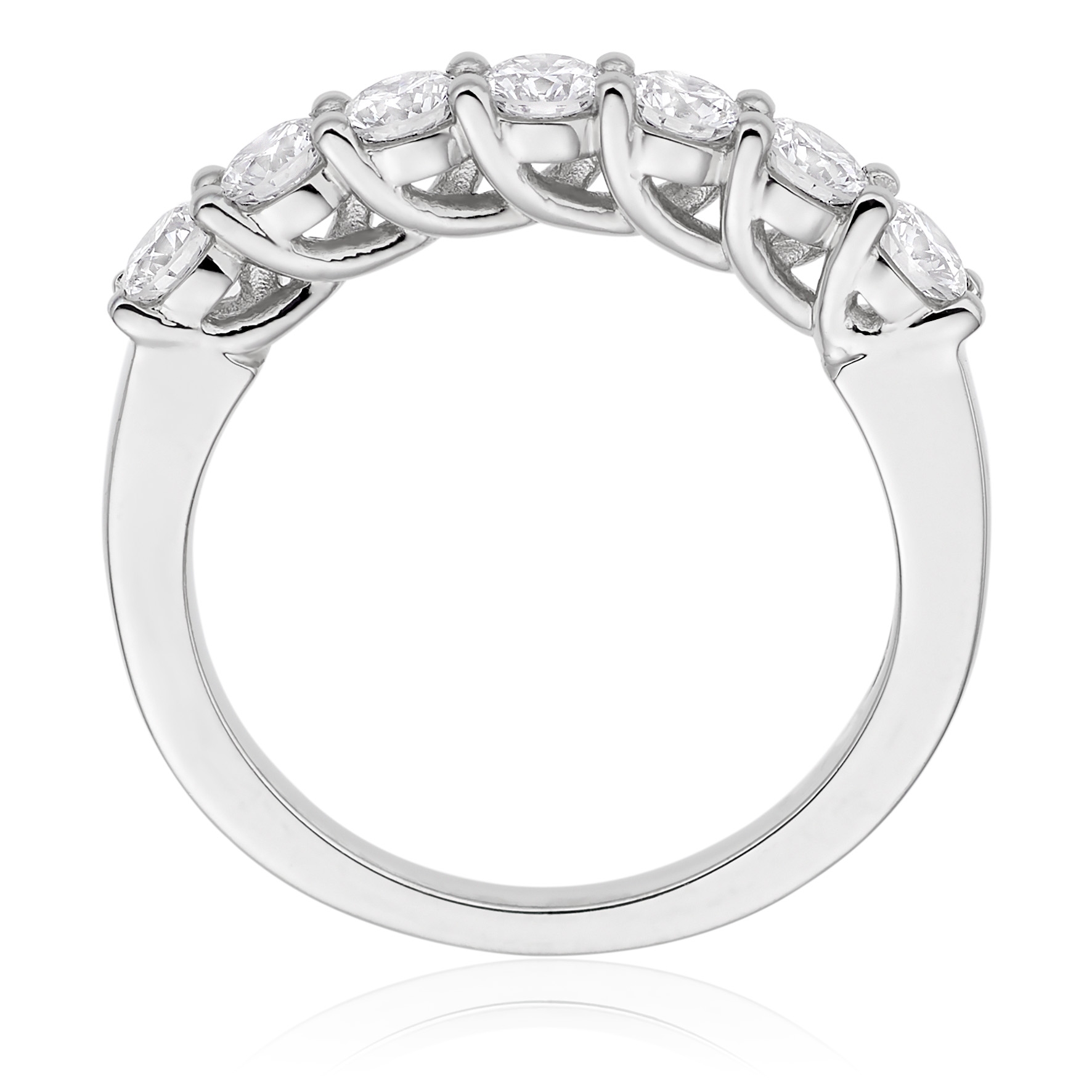 « Back