Eternity Rings in Hatton Garden: What is an Eternity Ring?
09/04/2019
Eternity Rings in Hatton Garden: What is an Eternity Ring?
The History of the Eternity Ring
How would one describe eternity rings – Hatton Garden jewellers are often asked this question! The answer is simple, it is any ring that celebrates a couple's love for each other. Traditionally this was a continuous circle of identical matching diamonds, or diamonds and gemstones, symbolising never ending love. Whilst the Egyptians didn't necessarily use the ring to commemorate a specific occasion, they were said to have used them as a token of eternal love and life. Nowadays they are most commonly gifted on an anniversary or perhaps to celebrate the arrival of a baby.
Extensive Collection
Rennie & Co, fine jewellers, have an extensive collection of eternity rings, Hatton Garden crafted, they epitomize their ethos of making fine pieces of jewellery of unparalleled beauty. A fine example is the Sabrina eternity ring, with its unashamedly more modern styling, it sits low to the finger and is a joy to wear. Most of our eternity rings are available as either a full or half variants. In the case of our half eternity rings they offer the customer a somewhat more robust ring which can be easily adjusted in size should the need arise. If you choose a full version care should be taken to avoid knocking the stones on the underneath of the ring as damage can be caused.
At Rennie & Co we painstakingly select the finest stones to make our jewellery from. Only when we are completely satisfied with them do we pass them onto our talented goldsmiths to create the finished pieces. From start to finish we monitor every process to ensure that your eternity ring is as special as it deserves to be.
Rennie & Co Hatton Garden Jewellers
Eternity rings and Hatton Garden have been linked for a very long time, so why not visit this historic jewellery quarter hidden away near the City and make someone dear to you very happy. You will find an extraordinary array of jewellery shops catering for every price range and style conceivable. A lot of perspective customers find it useful to spend a little time ahead of their visit online to shortlist shops of most interest. We are sure that Rennie & Co will be high up on your list of shops to visit!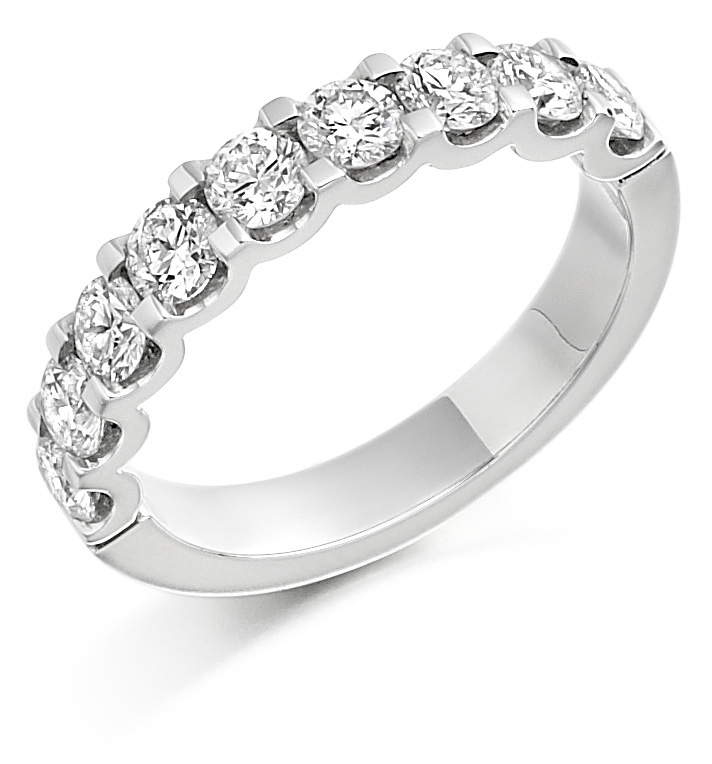 « Back