Your choice of earrings from Hatton Garden jewellers - a perfect gift
06/01/2016
Your choice of earrings from Hatton Garden - a perfect gift
Fine jewellery is always a special gift. Whether your partner is celebrating an important birthday, significant wedding anniversary or the birth of your child, nothing says it better than a pair of stunning earrings. The thought and effort put into the selection process adds to the very beauty of the piece, making them a hugely sentimental item to wear. Hatton Garden jewellers have long been known for their sparkling earrings, qualities vary but the choice is incredible. Earrings are a staple of any girl's wardrobe. They can be worn anywhere and with almost anything - work, an evening out or as you relax in the comfort of your own home! If you have decided to treat your partner to a stunning pair of earrings, have you considered the style that she would love?
If you are planning on buying diamond set earrings, which shape of stones catches your eye? Popular shapes displayed in Hatton Garden jewellers tend to be the round brilliant cut, emerald cut and princess cut. Perhaps a nice idea would be to match the shape of the stones to that of her engagement ring? Large diamonds often come with certification reports grading the four characteristics of a stone: carat, colour, clarity and cut. The higher the grade, the more costly the diamonds will be.
Diamonds not your cup of tea? At Rennie & Co, we stock a fantastic range of gemstone earrings. Sapphire, ruby, emerald... whatever your choice, stand out from the crowd with their wonderfully rich colours. Each and every one of our gemstones has been handpicked and matched to ensure beautiful pairs of stones. It is our fantastic quality that differentiates us from other Hatton Garden jewellers.
Does your partner love all things vintage? If so, she will love our Finestra range of earrings. Inspired by the Deco movement, your choice of either stunning blue or yellow sapphire sets the tone, whilst a subtle surround of milgrain set round cut diamonds compliments the centre stones fabulously. To view the blue sapphire Finestra, please click here, or for its yellow sapphire equivalent, please click here. Ruby and emerald are also available!
If you have any questions about of beautiful earrings, please contact us on 020 7405 4585 or email diamonds@rennieco.com. Alternatively, all of our earrings (stud and drop varieties) can be tried on in store.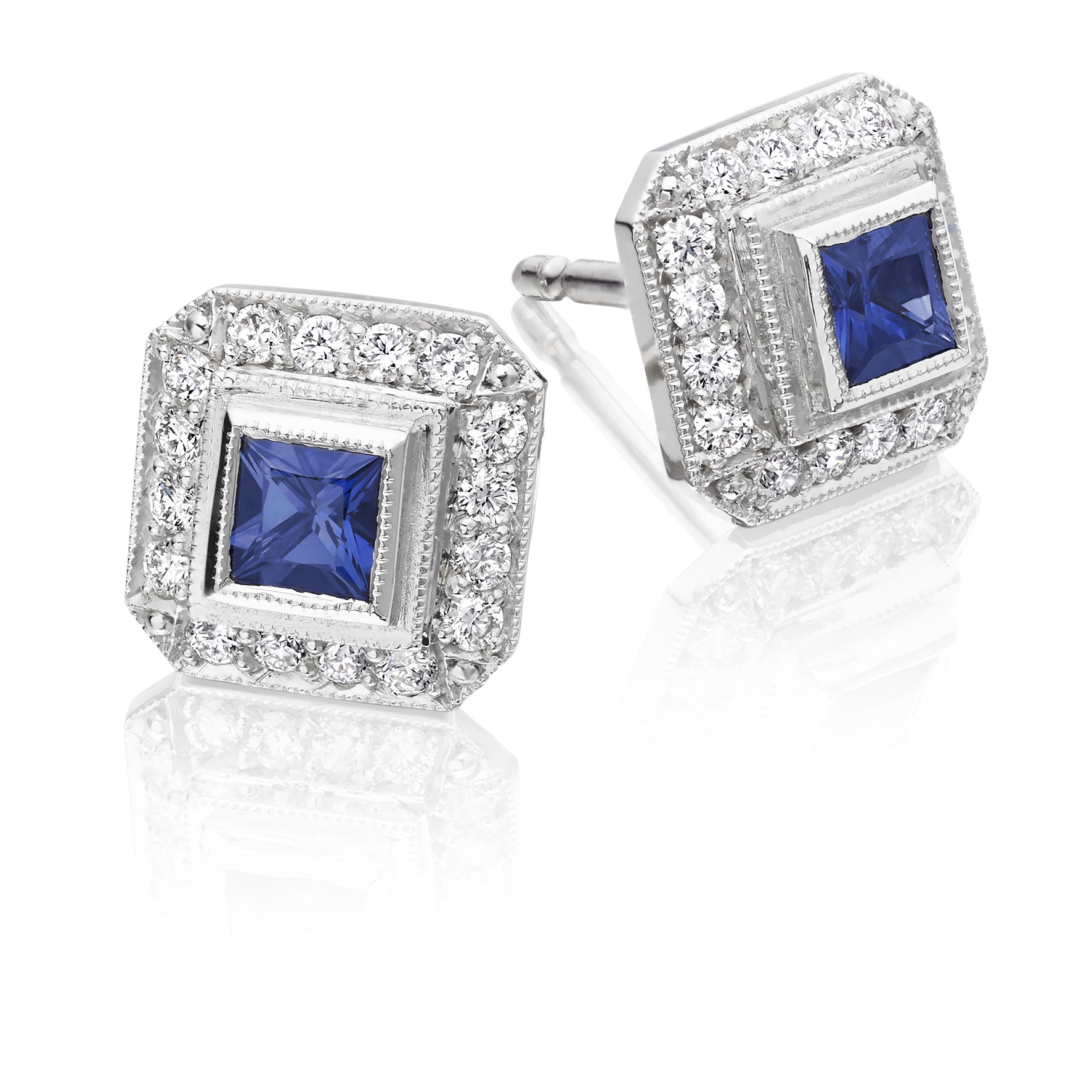 « Back