Cushion cut diamond engagement rings from London's Hatton Garden
25/07/2016
Cushion cut diamond engagement rings from London's Hatton Garden
Cushion cut diamond engagement rings are so often the one that people fall in love with and it is not uncommon to see couples travelling from all over the world to select from the beautiful selection of engagement rings available in London's Hatton Garden.
A unique shape
Cushion cut diamonds have rounded corners and large facets to increase their brilliance. Like most fancy shaped stones, a wonderful feature of cushion cuts is that they come in all shapes and sizes. Whereas some customers prefer squarer shaped cushions, others adore the slightly more rectangular forms. It is this uniqueness and difference in stones that attracts people to this most extraordinary cut.
A classic cut
Many jewellery lovers see the cushion as a rather modern shape of stone, however it is actually a classic cut of diamond. The cushion cut was incredibly popular during the 19th and earlier 20th centuries, loved by those that appreciated its soft appearance. Today's modern cushion cut is a progression from an antique cushion cutting method. In fact, some of the world's most recognised diamonds were cut in the shape of a cushion. The Tiffany Diamond, weighing an incredible 128.54cts is a fancy yellow diamond that was discovered in the mines of Kimberley, South Africa. The cushion diamond now set in a stunning necklace can be viewed in Tiffany's Fifth Avenue Store in New York. If you are visiting the Big Apple, this is most certainly a sight to take in!
Timeless design
Often incorporated into vintage engagement rings, you will find a vast number of stunning cushion cluster or halo style rings in London showrooms. This is a cut of diamond that is truly timeless and as such will look as wonderful to wear in the years to come as it does today.
If you are planning to view cushion cut engagement rings in London, Rennie & Co handcrafts a beautiful selection of diamond rings. Whether you have just begun your journey to find the perfect piece or are a few weeks into your search, our friendly team will be delighted to help. To contact us, call our experts on 020 7405 4585 or email diamonds@rennieco.com.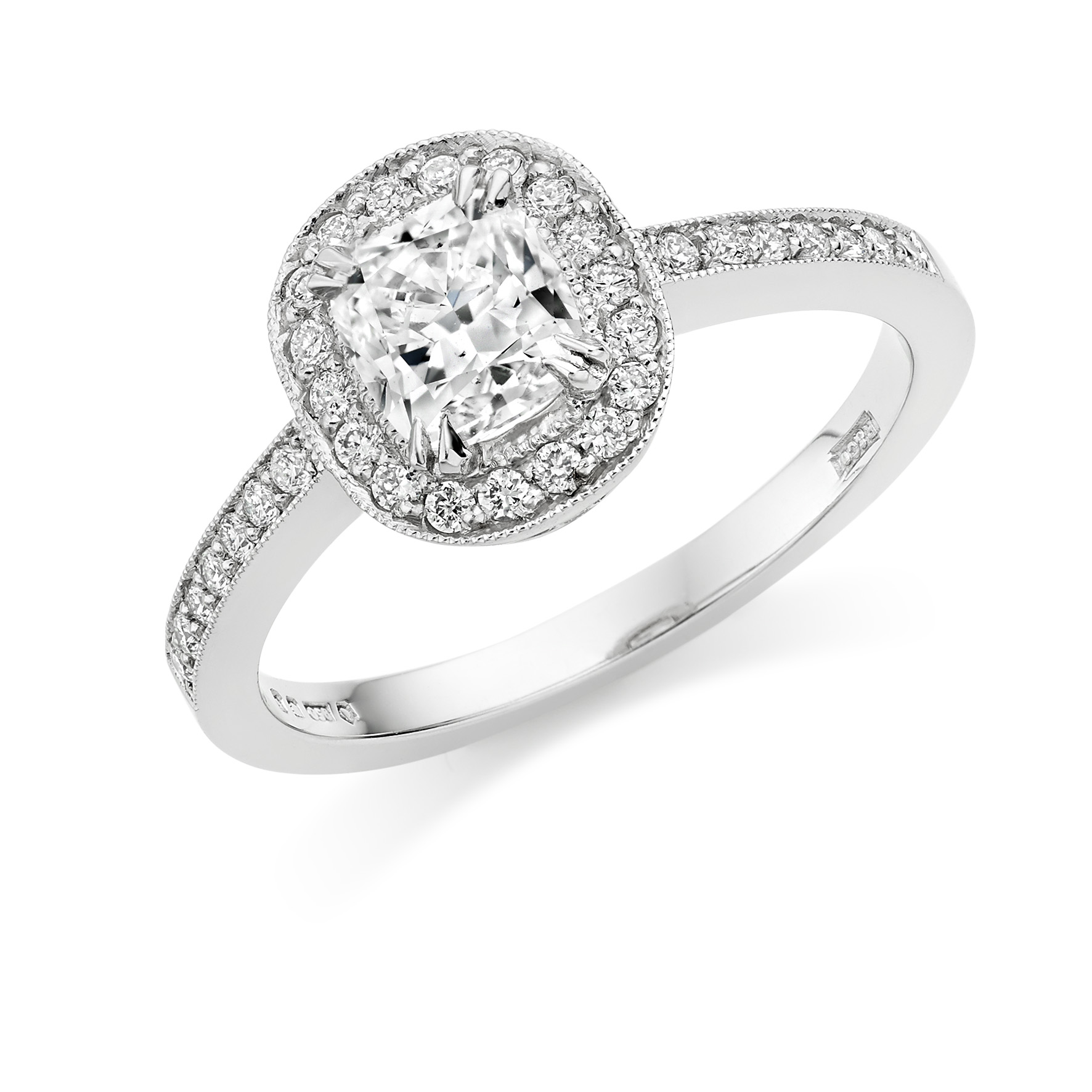 « Back