Anniversary approaching? View our gemstone platinum eternity rings!
14/09/2016
Anniversary approaching? View our gemstone eternity rings!
Platinum eternity rings are often gifted to your loved one to celebrate a significant wedding anniversary, a special birthday or the birth of a child. In recent times, coloured gemstones have become a popular choice incorporated into eternity pieces. Sapphires, emeralds and rubies all fall within the classification of precious coloured gemstones and whilst prices have increased due to demand they still offer outstanding value for money. If you are considering purchasing an eternity ring, here are a few ideas from the Rennie & Co collection…
If you are not bound by the traditional view of what makes an eternity ring and love Art Deco inspired designs, our Finestra collection is perfect for you. Available in sapphire, ruby and emerald variations, milgrain set diamonds surround the central gemstones, creating a truly striking piece. Worn on its own it will certainly stand out from the crowd. What's more, our Finestra platinum eternity rings have a range of earrings and pendants to match so you will never be short of gift ideas for the future.
Our Claudina platinum eternity rings are a wonderful modern twist on a traditional design, utilising both white diamonds and fine blue diamond cut sapphires. This ring is available in several different carat weight sizes and is lovingly made in our UK based workshop. To view the smaller carat weight version, please click here. Alternatively, the larger variant can be found here. Planning a surprise but not sure of your partner's finger size? No problem, Rennie & Co offers a complimentary first resizing. Once you have presented the ring to your partner, we invite our customers to visit our showroom for a professional fitting.
Looking for something that little bit different? Our yellow sapphire Love Knot eternity ring is a contemporary piece with a fascinating design. The striking pear shaped natural yellow sapphire weighs 0.63cts and is invisibly set. Made in platinum, you will not need to worry about having to rhodium plate the piece every 12-18 months due its naturally white colour.
Rennie & Co is based in the heart of London's Hatton Garden and is open seven days a week. If you have any questions about our beautiful platinum eternity rings, please do not hesitate to contact our team on 020 7405 4585 or email diamonds@rennieco.com.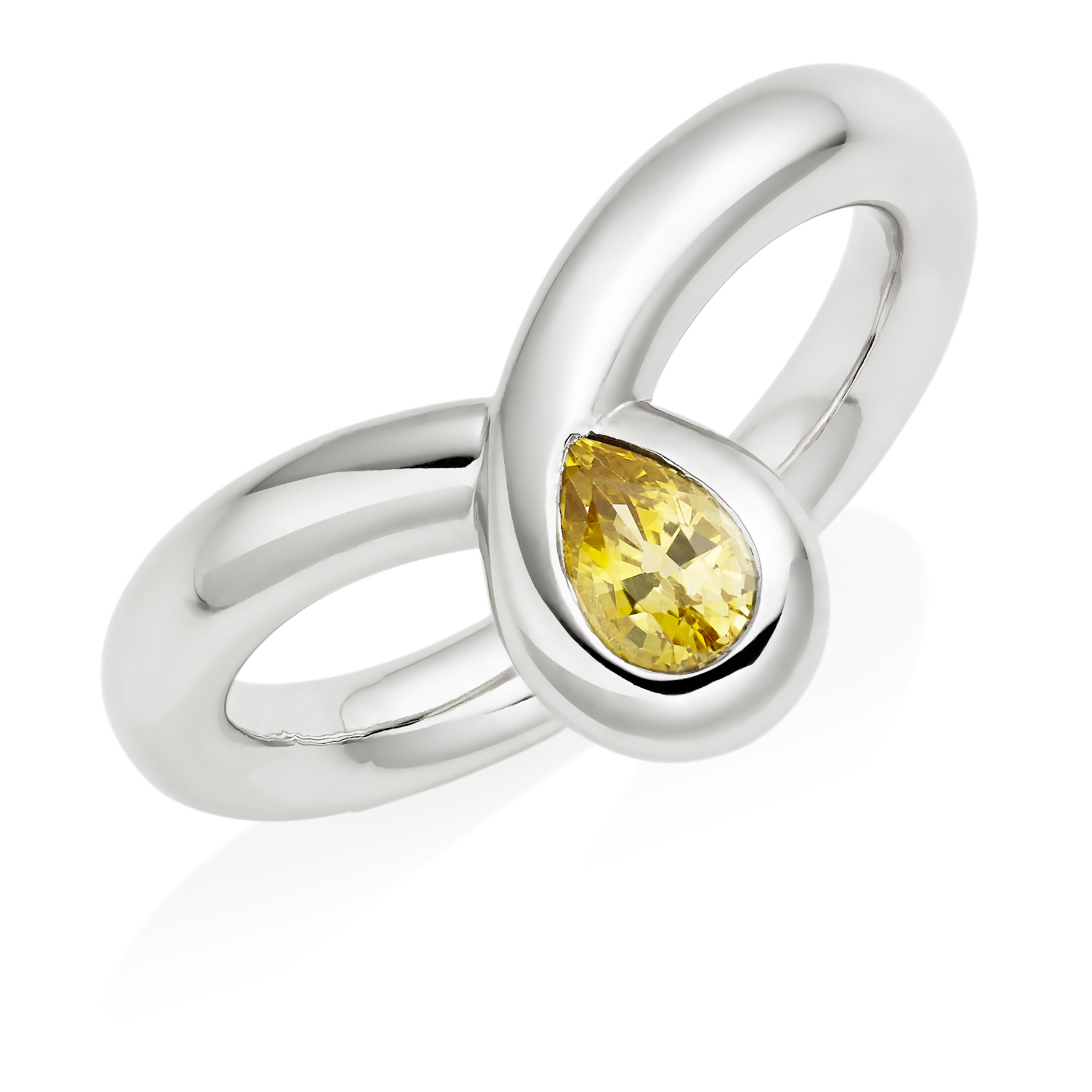 « Back